"Call me Betty Purple."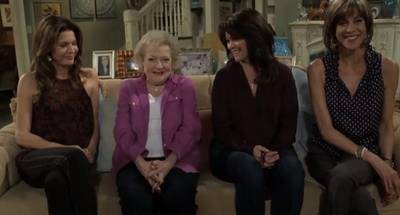 Actress, role model and all-around adorable human being Betty White is joining other celebrities in showing their support for GLAAD's Spirit Day on Oct. 17. The former star of NBC's hit show The Golden Girls joined her current TV Land Hot in Cleveland co-stars Valerie Bertinelli, Wendie Malick and Jane Leeves in spreading the word in a video, below.
Other Spirit Day ambassadors include singer Kesha, gay basketball player Jason Collins, transgender actress Laverne Cox from Orange is the New Black and Snooki.
There are several ways to get involved:
Sign the pledge to wear purple on Oct. 17 and take a stand against bullying.
Download the Spirit Day App.
Spread the word to friends, family and social media networks by using #SpiritDay
GLAAD's Spirit Day was founded by high school student Brittany McMillan in 2010 and is held on the third Thursday of October. According to GLAAD, millions of Americans wear purple as a sign of support for LGBT youth.
In June 2012, White described her thoughts on the LGBT community for The Huffington Post:
What's it like being a gay icon?
Oh! I didn't know I was a gay icon. I get a lot of mail — but I don't get many bad letters — but I got a woman the other day that was so upset with me because they said, "How do you feel about the gay marriage thing?" and my answer to that is, "I really don't care with whom you sleep, I just care what kind of a decent human being you are." I figure all the rest of it is your business and not mine. And not hers, incidentally.
Toyota is sponsoring the Spirit Day app. Ann Bybee, vice president of corporate strategy, said bullying "is still a devastating epidemic against which we must take a stand. Going purple for Spirit Day is an easy, simple, yet powerful way to show support, open a dialogue, and send a clear message that bullying of any kind isn't acceptable."
And for our Golden Girls fans out there, check out this video of Sophia Petrillo – played by Estelle Getty – on gay marriage.
[Image from GLAAD's YouTube promotional video. L-R, Leeves, White, Bertinelli and Malick.]