When it comes to Linda Bloodworth-Thomason, an automatic association is comedy – granted, often socially aware comedy – like her hit show Designing Women. The tragedy is a bit further in the back, but it's definitely there and it most certainly played a part in defining who she is today.
The same year Designing Women debuted, 1986, Bloodworth-Thomason's mother – along with many gay men – was dying in a Los Angeles AIDS ward, having contracted HIV from a blood transfusion. Bloodworth-Thomason was by her side.
"What shocked me was the prejudice and ignorance I saw when my mother had AIDS," she shares. "That was my first experience of knowing what it might be like to be gay. We were treated so abysmally. I thought this is what it must feel like to be gay, to feel this shunned and rejected. I couldn't get a funeral home to take my beautiful mother. I never forgot it."
That experience became the basis for an iconic episode of Designing Women, "Killing All the Right People," drawn from a comment made to her in a hallway of that hospital. Bloodworth-Thomason speaks freely about the homophobia and bigotry she encountered those decades ago, and hopes her new project, also born of tragedy, can strike another blow against some of that hate. That new project is her first full-length documentary, Bridegroom, the evolution of a 10-minute YouTube video made by Shane Bitney Crone after the accidental death in 2011 of his fiancé, Tom Bridegroom.
While the power of that video, "It Could Happen To You" – with more than 4 million views, so much footage of two young men obviously in love, the devastating heartache of Bridegroom's death and then his family's effort to block Crone from the funeral – alone would've been enough to draw in Bloodworth-Thomason, it also so happened the three shared a social connection.
"I met Shane and Tom at a wedding a few years earlier," she explains. "They were seated next to me. Tom was a Designing Women fan, so we struck up a big conversation. They were so charming, really very memorable. It was so clear they were so in love."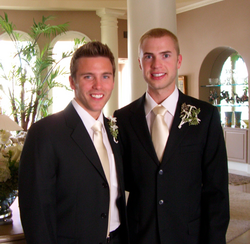 When she heard the news that the charming man she'd met had died falling from a roof while photographing a friend, it was upsetting. Then she saw Crone's sorrowful video and decided the two should talk.
"That Shane had been treated so shabbily by Tom's family, I found so distressing. Then I saw the video and it just made me so angry. I called him and said, 'Why don't you come in?'"
In the process of finding a direction to expand on what Crone has begun on YouTube, Bloodworth-Thomason found that Crone had a huge amount of personal footage, a habit begun during his youth as a small-town, Midwestern, closeted youth, often using his computer's camera as a sort of confessional. The result of their collaboration, with Bloodworth-Thomason producing and directing, is Bridegroom, introduced in April at the Tribeca Film Festival by Bloodworth-Thomason's friend Bill Clinton and winning the Audience Award for Best Documentary.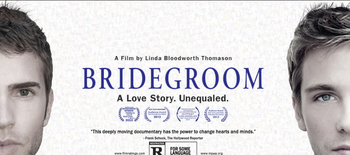 "What I really wanted to do was show people exactly what it is they've been opposing," Bloodworth-Thomason says of Bridegroom and those opposed to marriage equality. "There's no question the law is going to change on same-sex marriage, in our favor, in the favor of gay people, but there are just so many negative images and stereotypes out there. We had the Civil Rights Act in 1968 and that changed the law, but Guess Who's Coming to Dinner and then Roots and then The Cosby Show and Oprah, that's what really changed people. My hope is that Bridegroom can take a place in that pantheon of films that made a difference.
"I'd rather have Tom than this film, but there is no better representative than Tom to stand in for all the people who want to get married. I felt this was an even bigger platform for us to stand up to the hatred that was aimed at my mother."
Bridegroom makes its television premiere Sunday, Oct. 27, on OWN: Oprah Winfrey Network, at 10 p.m., as part of a special night of programming about being gay in America, which begins at 9 p.m. Bridegroom will also be available via Netfilx streaming starting Oct. 27.
[Top photo: Tom Bridegroom. Middle photo: Bridgroom, left, Crone, right. Both photos courtesy Bridegroom.]