Halloween isn't until next Thursday, Oct. 31, but around these parts this will be a Halloweek — with a full week's worth of entertainment, from dress-up contests and parties to a great variety of spooky shows and stories.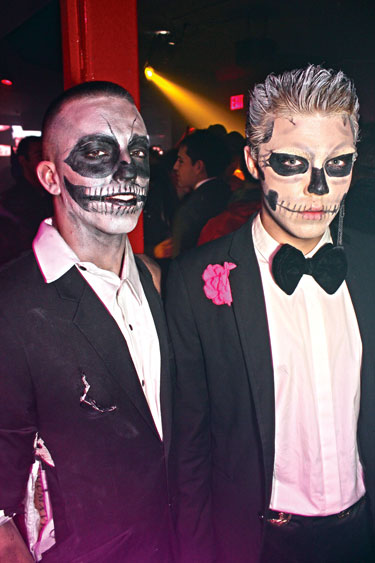 JR.'s kicks it all off with the area's first costume contest tonight, Oct. 24, at 11 p.m., with the winner earning the $300 in cash. The weekend then screams into gear Friday, Oct. 25, at Marrakesh, the swanky restaurant that in a previous incarnation was the sleazy gay bar Mr. P's and now plays host to "Skankoween," part of a new monthly gay party in the venue presented by The Local Skanks. The Hamilton Live offers a Halloween Howl, a costume contest and fun-filled show featuring performers riffing on the greatest Halloween hits of the past 40 years, everything from Werewolves of London to Psycho Killer to Thriller. And the Athenaeum presents "Ghosts and Folklore of Alexandria," an event at which Betty Ward and Michael Lee Pope will tell haunted tales about, and even lead a short "ghost walk" around, Alexandria, said to be one of the most haunted cities in the country.
Saturday, Oct. 26, is shaping up to be this year's biggest Halloween night. It certainly offers the biggest ghoul haul, with three area venues offering a top prize of $1,000 for best costume: Town Danceboutique offers what it bills as D.C.'s largest Halloween party and costume contest downstairs at midnight with $1,000 in cash for 1st place and $250 for 2nd place, along with music by Wess and performances by Ba'Naka, Tatianna, Epiphany, Shi-quee-ta Lee, Lena Lett and Tha Dance Camp. Cobalt's monthly party CTRL presents Carn-Evil, featuring music from its regular DJs Jeff Prior, Adam Koussari-Amin and Pocket Gays, go-go dancers, a photo booth and a costume contest hosted by Jezzibell JaxKnife with a $1,000 prize. And Number Nine, is offering $500 in cash and a $500 bar tab to the winner of its competition, and features music by the DJ duo BacK2bACk.
Also Saturday is Freddie's Beach Bar's Nightmare on 23rd Street Drag Show at 11 p.m., including a costume contest offering $100 in cash for 1st place, a $50 Freddie's gift card for 2nd place and a Sunday brunch gift certificate for two for 3rd place. And the DC Eagle hosts its annual Leather Sabbat with a costume contest at midnight. Other options that evening include: Raven's Night at the Birchmere, a "Dark and Decadent Belly Dance Show" hosted by Belladonna and Ken Vegas with women in various attire, including male drag; more burlesque and sideshow acts from Tilted Torch, offering its 5th annual "Spook-o-rama" variety show at the Anacostia Arts Center; a Halloween Gay/Bash! at the Black Cat featuring drag performances from Summer Camp and "resident dreamghouls" Dax ExclamationPoint, Rumor Millz and Heidi Glum, plus music spun by DJs Joshua Vogelsong and Dean Sullivan; and a benefit for Virginia's Boulder Crest Retreat for Wounded Warriors at the 9:30 Club featuring Camp Freddy, an L.A.-based supergroup that includes Dave Navarro and Chris Chaney of Jane's Addiction, Matt Sorum and Billy Morrison of The Cult, and Donovan Leitch.
But this particular Saturday night doesn't have to end when the bars close. Organizers of D.C.'s long-running Cherry benefit party have secured the subterranean U Street spot Tropicalia starting at 3 a.m. for a breaking-dawn party called Attack of the Afterhours, featuring a "crazy costume contest, mayhem monster light show, go-go dancers, drum performance, special spooky surprises" and music by DJs David Merrill and Sequoia.
A couple nights later comes the penultimate Halloweek peak, the JR.'s-sponsored 2013 High Heel Race, set for Tuesday, Oct. 29, at 9 p.m., though the parade starts at 7 p.m. The next night, Landmark's E Street Cinema offers the chance to see the ultimate scream queen Jamie Lee Curtis in her debut film, 1978's genre-defining horror classic Halloween. And then all spooks break loose for All Hallows Eve Thursday, Oct. 31. That night Cobalt offers another costume contest, this one hosted by Sasha and Ba'Naka with a top prize of $750, plus $350 split between the two runners-up, plus music by DJs Sean Morris and MadScience. Also that night the Washington Scandals rugby team teams up with the DC Eagle for a "Rugby Slaughter" costume contest with prizes including a $50 bar tab, plus various drink specials like $2 off everything. Over at the Ziegfeld's/Secrets complex there's a double-trouble "Nightmare on Half Street" — downstairs, an "It's Your Show" amateur event hosted by Ella Fitzgerald and including resident drag doyennes Billie Ross, Tatiyanna Voche and Kristina Kelly plus music by DJ Joey-O; and upstairs a Haunted Men of Secrets event hosted by LaTroya Nicole with music by DJ Tim é. All told, the complex will award $500 in cash prizes.
Other options on Halloween night: Nellie's offers a cash-awarding costume contest emceed by Denny Lyon with music by DJ Lemz; "U Hell: Ghoul's Night Out" at U Street Music Hall, which features local Moombahton/trap DJ duo Gent & Jawns, a new exclusive seasonal brew from DC Brau and a costume contest judged by DC Brau's Brandon Skall and Jeff Hancock; and a Halloween Circus at the Black Cat features a slew of live bands, including Sean K. Preston & the Loaded Pistols and Miss Shevaughn & Yuma Wray, burlesque and sideshow acts hosted by Brendan Wetherbee.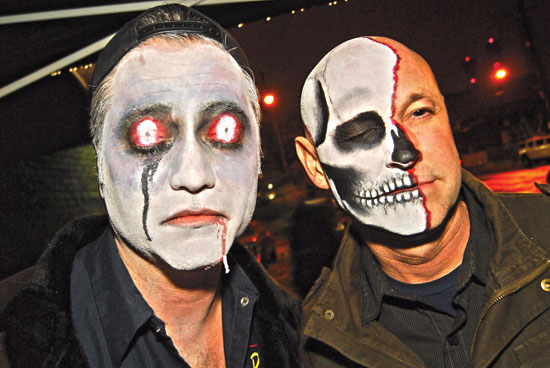 But as they say, it's not over until the fat drag queen sings — or at least when bartenders and other employees at the Green Lantern give you a sight and a fright donning drag as part of the 9th Annual Employee Benefit Drag Show. Starting at 10 p.m. on Friday, Nov. 1, the evening includes a live auction and a Halloween — or technically, a Day of the Dead — costume contest throughout the night, with top three winners splitting $175 in cash and a $175 bar tab.
But if you still don't want it to end, it doesn't have to. In fact, you could celebrate Halloween for weeks, especially if your preferred spooky treat is of the film variety. The AFI Silver Theatre in Silver Spring offers the series "Halloween on Screen" until Nov. 4, and next weekend offers screenings with live musical accompaniment of both Nosferatu and the nearly century old The Phantom of the Opera — not to mention a little funny flick called Ghostbusters, which sure sounds like a perfect way to wind-down the week. To quote the 1984 movie's hit theme song performed by Ray Parker Jr.: I ain't scared of no ghost!
For more info on these and other events, be sure to consult Metro Weekly's Out On The Town calendar as well as the Nightlife listings.
The 27th High Heel Race continues a triumphant tradition
Openly lesbian director Kimberly Peirce brings a classic horror film up-to-date by infusing it with a modern — and queer — sensibility