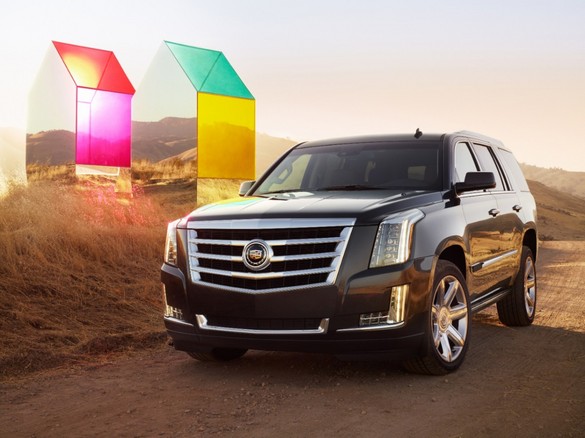 Ah, the Escalade. Never has a less-subtle vehicle existed than Cadillac's largest SUV. And in true form its latest update for the 2015 model year continues the tradition of offering as much chrome and ostentatious excess as possible. Holding the title of General Motor's most expensive SUV, the Escalade has managed to carve a rather profitable niche with its brash styling and pseudo-luxury aspirations. For this latest model, however, Cadillac seems to have finally nailed that key word — luxury. Caddy call the latest 'Slade understated and elegant. We're not sure they were actually shown any of the final designs, but the car certainly exudes a much more upmarket feel and this mercifully continues to the interior which is now something befitting the car's swollen price tag.
Previous Escalades have felt like little more than louder variants of the GMC Yukon XL and Chevy Suburban, and while this latest model shares a familiar backbone to its two cousins, it's a different beast entirely. On the outside, chrome is still very much the dressing of the day, with swathes of the stuff coating the Escalade's exterior, but this time it's paired with a redesigned front — featuring LED headlamps and a bold new grille — and an all-new rear with full-height vertical LED taillights. Yes, similar to those on '90s Volvo wagons, though perhaps refrain from sharing that similarity with your local Cadillac dealer. Twenty-inch wheels come as standard, and the Escalade's boxy, upright stance on those big rims could almost be described as handsome. It's a marked improvement, and in keeping with Cadillac's current design rebirth — they have one of the most attractive fleets on the road.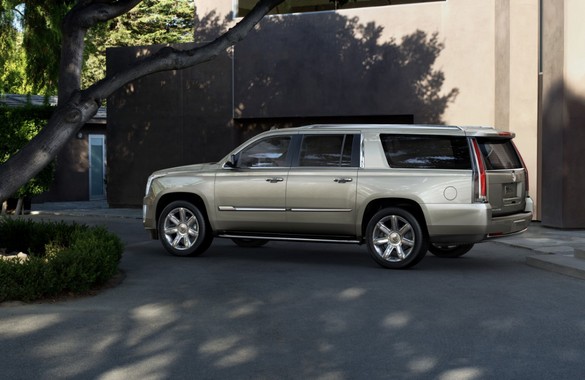 Dragging all of that metal around is one engine option — GM's 6.2-liter EcoTec3 V8, which presents 420 horsepower and 460 lbs-ft of torque to your right foot. Driving it is a six-speed auto — sadly no 7- or 8-speed set-up here to aid economy — which can be specced with either two- or four-wheel drive. Ride comfort and the overall driving experience should be less like a cruise ship and more like a luxury SUV with coil-over front suspension, a five-link rear setup, wider track, variable-assist power steering and GM's Magnetic Ride Control system with Tour and — rather amusingly — Sport modes. The Escalade will be available in long or short wheelbase options and the much-loved EXT variant will hopefully make an appearance sooner rather than later.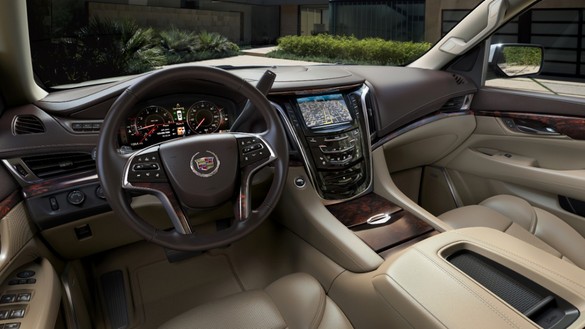 Given its stance as a luxury SUV, its appropriate that Cadillac have seen fit to give the Escalade a suitably luxurious interior. Full judgement will need to be reserved until we can actually touch said interior for ourselves, but given Caddy's current track record and the appearance in press images, it's shaping up to be a nice place to pass the time. Cadillac's waterfall-inspired centre stack is present, as is their CUE entertainment system. It's available in either 6- or 7-seat variants, with both offering plenty of cushy space to stretch out in. One rather disappointing holdover is the steering-mounted gearshift. It's really time to ditch such systems in favor of a sleeker alternative, though it does free the center console up nicely for additional storage and optional wood paneling.
Sadly, pricing and fuel economy figures are non existent at the moment, but expect the former to be around the $70K mark and the latter to be dreadful, but slightly better than the outgoing model. If you're a fan of Cadillac's monstrous SUV — and, despite my rather condescending tone, I don't blame you if you are — expect it to hit dealers in spring 2014. Just remember that it won't automatically make you cool, interesting, or a hip-hop superstar — it's just a car, after all, albeit a boldly confident one.