A D.C. Superior Court jury today found 28-year-old Lashawn Carson guilty of aggravated assault while armed and related weapons charges for shooting a gay man in a Columbia Heights IHOP restaurant following an altercation in the early morning hours of March 11, 2012.
Carson was found guilty on seven charges, including aggravated assault while armed, assault with a dangerous weapon, two counts of possession of a firearm during a crime of violence, possession of an unregistered firearm, unlawful possession of ammunition and carrying a pistol without a license. D.C. Superior Court Judge Michael Ryan has scheduled sentencing for Dec. 9.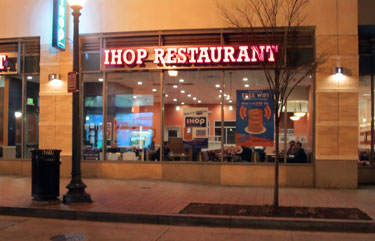 IHOP in Columbia Heights
(Photo by JD Uy)
According to evidence presented at trial, two separate groups of friends were eating at the IHOP restaurant in the 3100 block of 14th Street NW at 5:30 a.m. just before the shooting. The victim, a gay man, was attempting to walk to the cash register to pay his bill when Carson and one of her male friends stood in his away. The victim attempted to squeeze by and bumped into Carson. Words were exchanged, and the defendant's friend used a homophobic slur.
The two men began fighting in the restaurant, but were separated by an off-duty Metropolitan Police Department (MPD) detective who happened to be at the restaurant. As the detective was separating the men, Carson approached them, adjusted her hair, pulled out a firearm and shot the victim once. Carson and her friends then fled the scene. Following a two-week MPD investigation, Carson was arrested and imprisoned March 26, 2012.
The victim was transported to Washington MedStar Hospital, where he was treated for injuries to his abdomen and released.
Friday's conviction comes a little more than a year and a half since Carson's arrest, due to several delays in the case. At one point, Carson did not appear in court for five months, prompting her lawyer, Patrick J. Christmas, to ask for the charges against Carson to be dismissed for violating her right to a speedy trial. Judge Ryan rejected Christmas's motion after the U.S. Attorney's Office for the District of Columbia secured an indictment of Carson on all seven charges related to the IHOP shooting.
Prior to her conviction, Carson, a mother of two young children, had been placed on a high-intensity supervision program by D.C. Superior Court Judge Frederick Sullivan. According to the court's Pretrial Services Agency (PSA), Carson was in "perfect compliance" with the terms of her release, which were eventually altered to allow Carson to leave the house during the day as long as she complied with a court-imposed curfew from 10 p.m. to 6 a.m.
Carson is being held in prison as she awaits sentencing. Under D.C. Official Code, Carson could be sentenced to 10 years in prison, plus a mandatory sentence of anywhere from five to 15 years for being convicted on the charge of aggravated assault while armed. Additional time could be added to her sentence for the weapons-related charges as well.