Marques Toliver got his start in the music business by busking, playing violin on the streets in St. Augustine, Fla. These days you're more likely to find him playing violin and singing on the streets of New York, London or Antwerp, Belgium, where he currently makes his home.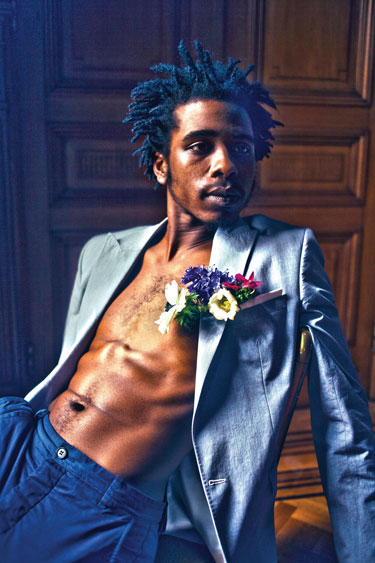 Marques Tolliver
"It's an exercise in a way," Toliver says, "because if I don't do it for a few months or something, it's kind of like going cold turkey." Of course, Toliver doesn't have to busk anymore. The man Adele anointed a couple years ago as her "new favorite artist" has gone on to record with indie-rock stars TV on the Radio and Grizzly Bear, as well as support acclaimed artists such as Paloma Faith, Cody Chestnutt and Alice Russell, for whom he opens this Saturday, Oct.5, at the Howard Theatre. Toliver is touring in support of Land of CanAan, his striking debut album that merges Toliver's classical music training with his jones for soul and pop, as well as literature — kind of like a modern-day, string-oriented version of Nina Simone. "As of right now there really aren't too many other artists making music like me," says Toliver, whose sound you might call chamber-soul.
The second oldest in a family of seven from Daytona Beach, Fla., Toliver started playing violin when he was 10, which is also about the time he began to realize he's gay. "I used the violin as my launching pad to get out of Florida," he says, adding that in his case, "The fact that I was gay wasn't ever an issue. The type of environment I grew up in really allowed for me to be myself."
Since moving to Antwerp last year, Toliver, who serves as editor-in-chief of the fashion and culture magazineLove is the Law, has been working with the Belgian DJ Compuphonic, creating several soulful deep house tracks such as "Sunset," which has scored over 3 million views on YouTube. "I've been performing with him around Belgium at all these big festivals, playing in front of at least 6,000 people," he says. "Kind of like a David Guetta/Kelly Rowland type of set-up."
Marques Toliver opens for Alice Russell Saturday, Oct. 5, at 7:30 p.m. at The Howard Theatre, 620 T St. NW. Tickets are $17.50 or $23 day of show. Call 202-588-5595 or visit thehowardtheatre.com.