She may have catapulted to fame for her standup when she was barely old enough to drink, but Margaret Cho has shown no signs of slowing. Her 20-year-plus career has taken her from comedy stages, to TV — starting with her own short-lived yet groundbreaking All-American Girl — to movies to activism to burlesque to books to dancing with stars. On and on and on.
While the ride's not necessarily been pleasant every step of the way, Cho has held on tight. Today, she's continuing with the "Mother" tour she launched in September 2012.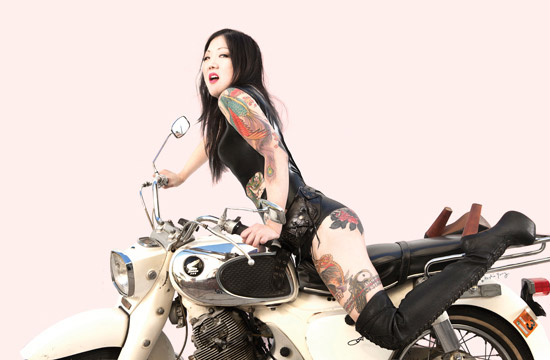 Margaret Cho
(Photo by Austin Young)
"It's probably my edgiest show to date, filled with riotous observations on race, drugs, sexuality — gay-straight-everything in between, celebrity, culture, politics — nothing is sacred," Cho says of the show in the promotional notes.
But it's not a nonstop tour. Cho has to make time for her role as Teri Lee on Lifetime's Drop Dead Diva, produced in Atlanta.
"I'm there probably four to five months a year, which is probably the most I am anywhere," Cho says of Atlanta. "It's very progressive and very queer. And Southern — so I'm learning about that, too."
She already knows California's version of Southern, where the San Francisco native and her husband are ultimately based — no kids, two dogs.
"They're so sweet," she gushes of her — mostly — Chihuahua and Australian shepherd mutts. "I think rescue dogs are really special. And mutts are really special. They really are grateful they've been rescued. That's the best. I think animals are awesome."
That big heart was on display in Washington as recently as July 2012 when Cho emceed the "Keep the Promise" rally ahead of the giant XIX International AIDS Conference. She'll be a little less activist and bit more riotous, however, when she returns to D.C. Nov. 9, bringing her Mother tour to the Warner Theatre.
"People have to come," Cho insists, speaking by phone from a tour date in Austin, Texas. "It's going to be a lot of fun and I'm really looking forward to it."
No doubt quite a few Washingtonians — particularly "the gay" — are looking forward to it, too.
METRO WEEKLY: Looking at the tour, at "Mother," I was advised to ask you about the content. I heard the material doesn't actually include much about your mother, one of the hallmarks of a Margaret Cho performance. So, what's the theme? Is it like, "the mother of all tours"?
MARGARET CHO: She is in this show, but it's always different. It's also kind of feeling like being the "mother superior" to my group of gay friends, too, because I'm the oldest, the one with the most experience. You get to a level of like when you've kind of been around the gay community for a long time, and you've been a fag hag for a long time, you're like the "mother fag hag." And that's kind of what this show is, too.
There are a lot of different things, but I think that's probably what I was really thinking about. It's like, "We're going to go see Mother." It's an identity. I've also talked a lot about my mother in the past. The show changes from day to day, too, depending on what's going on. It's also kind of the identity, this point I've reached in my life.
MW: That context, "mother," reminds me of interviews I've read where you compare good occasions — like a great audience or a wonderful collaboration — to being like "family." But beyond your parents, as you've included them in your material, I have no idea what kind of family you have. What is "family" to you?
CHO: To me, it's more about people I grew up with. A lot of people in the gay community that were working for my dad in the '70s and '80s in San Francisco, the extended family they built…. Being in San Francisco during very traumatic, very insane times, then through AIDS, through this devastation where people grew very close.
Family means a lot of things. It doesn't necessarily mean blood relations. It goes into the much deeper search for family that I think is always happening within the gay community, because a lot of people get cast out of their family and then create their own families. That is a very beautiful thing, and a very natural thing to happen within the gay community. It's something that I've always done.
There are always strong relationships in terms of family in Asian culture, but for me it goes beyond that. There were definitely a lot of people who taught me who I was going to be: very tattooed, riding motorcycles and being an artist. There's a lot more to it than just my Asian upbringing and my Korean upbringing. It goes beyond that.
MW: As that sort of mother superior to chosen family, how young is that family?
CHO: Probably the younger ones are in their early 20s. There's also the impetus of when you see gay kids around, you always want to kind of acknowledge their presence — which I talk about in the show as being an important theme, as a gay adult having survived bullying, having survived all the stuff that I know every gay kid goes through, no matter what.
It's a very important thing to acknowledge our youth and to parent them in the sense that we're all part of this family, whether or not we actually are involved in their lives. We have to acknowledge we are family, and that that's a really good thing.
MW: We just had GLAAD's Spirit Day to counter bullying. Did you wear purple in support?
CHO: Yes! I think it's such a great thing to do. It's great to acknowledge this idea that we can find a way to protect kids. There's also the It Gets Better campaign and all that Dan Savage does. It's a great thing to participate in.
MW: You mentioned you were bullied. I didn't know that.
CHO: For me, it was mostly a reason to become an adult. I became a comedian very early on because I wanted to get out of the powerlessness of being a kid and being around other kids. The feeling you have of, "I've got to get out of being a child so that I can somehow get control over the situation." I think this is almost inevitable for people who are different, in any situation. But certainly for queers it's very tough.