Born and raised in Baltimore, 27-year-old Bilal doesn't take himself too seriously. Highly social, frequently cracking jokes, and a master of sarcasm, Bilal says his Muslim father had a hard time accepting his oldest son as gay, but has gotten used to the idea. Currently working at a communication consulting firm as an LGBT event coordinator, Bilal plans to host a monthly party at Marrakesh DC. When he's not organizing parties, he's likely attending them, flitting from Cobalt to Number Nine to Town on any given night. In his free time, he loves dining out, doing yoga, and recently got into rock climbing, telling Metro Weekly, "It's really intense, and I hate working out, but I need someone to motivate me, to yell at me and get me going, in or out of the bedroom."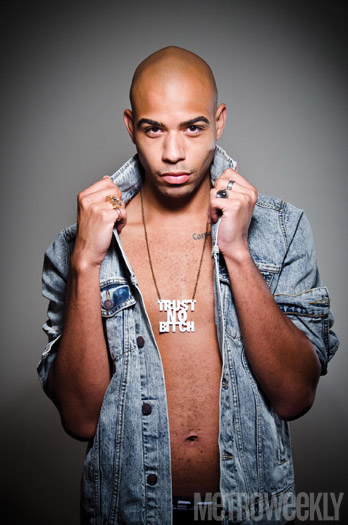 Coverboy: Bilal
(Photo by Julian Vankim)
What's on your nightstand?
Condoms, lube and a Fleshlight.
What's in your nightstand drawer?
Handcuffs, heating massage oil and nipple clamps.
What are your television favorites?
American Horror Story: Coven, Grey's Anatomy, The Wendy Williams Show and any Bravo reality-TV show.
What was your favorite cartoon when you were a kid?
Sailor Moon. It's still my favorite.
Who's your greatest influence?
Chelsea Handler, Nicole Richie and Angeline Jolie.
What's your greatest fear?
I have a fear of heights, but my greatest fear would be to die alone. Or be attacked by a Chucky doll like in Child's Play.
Pick three people, living or dead, who you think would make the most fascinating dinner guests imaginable.
Andy Warhol, Anna Nicole Smith and Wendy Williams.
What would you serve?
Cocaine with tea and coke.