Somebody get this man a passport. Coverboy Brian wants to travel the world, but the 22-year-old, originally from Hagerstown, Md., hasn't strayed far from the D.C. metro area. Now in Alexandria, Brian works in retail by day and dances at Ziegfeld's/Secrets at night. Because of his packed weekly schedule, he spends more of his free time napping than going out, though he manages an occasional outing to Cobalt and JR.'s on Mondays and DIK Bar on Tuesdays. As for his secret to staying in shape, Brian says he doesn't work out at all, possibly making his "rough-around-the-edges" persona even more intriguing to would-be Romeos.
What's on your nightstand?
My phone, my alarm clock, my lamp and a coaster.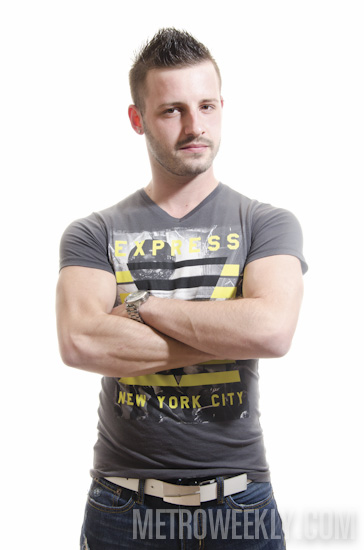 Coverboy: Brian
(Photo by Julian Vankim)
What's in your nightstand drawer?
A Fleshlight, a dildo, some condoms, lube and poppers.
What are your television favorites?
I love me some Modern Family, American Dad, Family Guy. Pretty much anything that makes me laugh.
What was your favorite cartoon when you were a kid?
Rugrats.
Who's your greatest influence?
My mother. She pretty much raised my brother and me by herself. She worked multiple jobs to make sure we could get what we needed in life.
What's your greatest fear?
Any type of bug. Actually, anything that's not human – it could be bugs, mice, rats.
Pick three people, living or dead, who you think would make the most fascinating dinner guests imaginable.
Betty White, Kathy Griffin and Lisa Lampanelli.