The heavens are silent. It's a matter of science. There's no air pressure in a vacuum, so in space, there's no sound. That's why we all owe a debt to the thin atmosphere above and around us, the air held in place by the sheer mass of Earth. It delivered our first words. Our dying whispers. Our promises. Our confessions. The entire chattering history of the human race, carried by the invisible winds that waft past our ears.
All that noise, I suspect, must feel so distant when you're floating hundreds of miles above the planet we call home. NASA engineer Charles David Morgan once described the experience as "a tremendous visual spectacle, but viewed in silence." He continued: "There was no grand musical accompaniment; no triumphant, inspired sonata or symphony. Each one of us must write the music of this sphere for ourselves."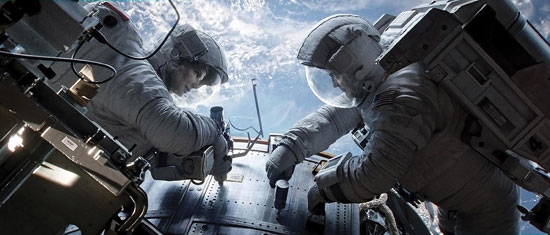 Gravity: Sandra Bullock and George Clooney
If music must be imagined in the noiseless void, Gravity is a symphony. A visual masterpiece made by the most technically gifted director in the world, it uses the grandeur of Earth and the limitlessness of outer space as a three-dimensional canvas for an audacious story about life, rebirth and evolution. It punctures the silent beauty it creates with tense moments of absolute terror, then inflates itself to even grander proportions than it had before. Gravity is nothing short of an ideal. Ambitious? God, yes. Inventive? Surely, in every imaginable way. Artistic? Of course. It's Alfonso Cuarón.
The movie opens with a long, characteristically seamless shot of Earth backlit by the sun. (If Cuarón is known for a single flourish, it's his devotion to the long tracking shot.) A small dot appears in orbit against the horizon. It grows bigger and bigger, until it takes a more recognizable form. A spaceship, with satellite in tow. Finer details emerge: a veteran astronaut named Matt Kowalski (George Clooney), circling around the craft, cracking jokes and telling old stories to mission control. A rookie scientist tethered to the satellite, Dr. Ryan Stone (Sandra Bullock), tunes him out. A third man, an engineer named Shariff (Paul Sharma), humors him nearby. The frame has shifted from the stupendous to the menial. They're out on a routine repair mission in the least routine place possible. Cuarón's camera lingers on a single, weightless screw.
And then, chaos. A cascade of space debris, travelling faster than a speeding bullet would on Earth, whips past the crew. Shariff is killed. The space shuttle is ruined. Ryan tumbles away from Matt, while the debris destroys the last satellite contact with Houston. The two surviving astronauts are stranded in space. It's their worst nightmare, realized.
What can they do? Will they reunite? Do they have a plan? For the sake of surprise, I don't want to reveal much else. Just know that Gravity is neither monotonous nor tedious about Ryan and Matt's story. It's a remarkably kinetic movie, dedicated to simple, physical objectives. Don't run out of oxygen. Find another spacecraft. Avoid the debris. Track down an emergency capsule. Ride it back to Earth. Beneath those goals, though, lies the beating heart of Cuarón's gorgeous creation.
GRAVITY





Starring Sandra Bullock, George Clooney
Rated PG-13
90 Minutes
Opens Friday
Area theaters
In successive scenes, Ryan is framed by camerawork that suggests a spiritual purpose to her dreadful plight. She represents a metaphoric fetus, then a newborn child, and finally, a dominant and evolved human. For Ryan, space is an incubator, a silent prison that challenges survival in every conceivable way.
Yet, there's hope. When we see Earth reflected on Ryan's visor as she fights for her life, we see everything we've ever known. All of humanity, glimmering in a brief flash of color. If she can manage to get back on terra firma, her life will be more precious.
"Life in space," Cuarón explains as Gravity opens, "is impossible." Sometimes, life on Earth feels impossible too. It isn't. We're meant to thrive here. It's just noisier.