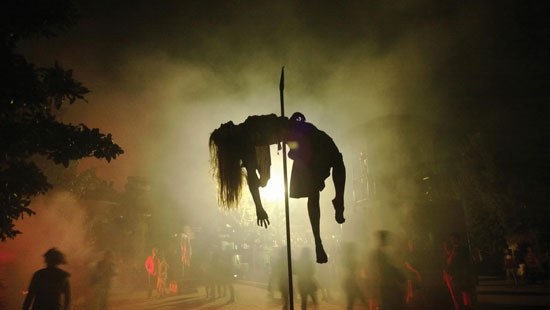 In recent years, major theme parks have extended their seasons beyond Labor Day by tapping into this country's seemingly insatiable bloodlust for Halloween. Virtually every amusement park in the nation now remains open on weekends throughout the month of October, offering an adrenaline-pumping mix of high-octane rollercoasters during the day, and intense, ghoulish scares at night. And you'll find an abundance of zombies, chainsaw-wielding madmen, and things that go bump in the night (quite literally) at Kings Dominion and Six Flags America, two local haunts.
Of the pair, Kings Dominion's Halloween Haunt is arguably the grander experience. Covering a larger area and featuring more rides, the Doswell, Va., park can comfortably keep you occupied for an entire day. We arrived in the afternoon and rode an incredible selection of rides, including the 305-foot-high Intimidator and longtime wooden favorite The Grizzly. A bright, cheery place by day, as dusk falls, the park transforms into something rather evil. The main street fountains blaze blood red and fog is pumped into every open area, blanketing the entire park in a thick, disorienting smog. Lights are dimmed, creepy music plays, and costumed actors roam designated scare zones, seeking unsuspecting individuals to startle.
With nine haunted houses to explore, Kings Dominion has plenty to terrify you. Not all are guaranteed to shock — No Vacancy and Outbreak the Evolution feel underdeveloped, for instance — but a few are bone-chilling standouts. Cornstalkers is a tight, claustrophobic maze of maize, with sharp turns and well-concealed actors, hooded in creepy scarecrow masks, offering consistent scares. Slaughterhouse is dark, grisly and disturbing, with props, actors and a few well-situated mirrors combining to offer a blend of anxiety and repulsion. Miner's Revenge is particularly notable for its length — not to mention some magnificent performers who creepily stalk you, literally breathing down your neck as you navigate the darker sections.
Mitchellville, Md.'s Six Flags America is the smaller of the two parks, and certainly feels it. We managed to ride every coaster and several rides — including the brilliant Superman: Ride of Steel — and still had an hour or so to kill before Fright Fest began. Once it did, however, things improved considerably — if by "improved" one means the setting in of sheer panic and dread. Six Flags' designated scare zones demonstrate better attention to detail: Where Kings Dominion generally relies on rubber masks for its performers, Six Flags utilizes excellent makeup to offer similar horror with far greater realism. Actors roam the zones, furiously chasing and screaming at individuals, keeping adrenaline high as you navigate the park.
Though it offers nearly half the houses as Kings Dominion, Six Flags has quality over quantity in its favor. Aftermath is the lone dud here, a lame, haphazard walk-through that lacks the claustrophobic encasement of the other indoor mazes. Spider Factory is particularly disturbing for anyone with even mild arachnophobia, while Twisted Fairy Tales cleverly utilizes 3D glasses and black light paint to disorient your vision and make props and actors objects appear to float improbably in midair. The crowning glory, however, and one that is arguably better than any other house at either park, is The Haunting of Hall Manor, which plays off the legend of the park's alleged ghost, Eleanor.
Open only after darkness fully descends, Hall Manor forces those brave enough to enter to walk through the woods behind the park, with minimal lighting, sound effects and actors combining into an experience that evokes every primal fear as you stumble through. When you're standing in a dark, wooded area and the ground suddenly starts creeping toward you, you shriek. You shriek loudly. Hall Manor's length adds to the fear. By the midway point we wanted nothing more but to exit, but were forced to keep navigating into even more disturbing scenarios. It's magnificent and magnificently terrifying.
Ultimately, either park is guaranteed to provide a heady mix of thrills and scares. Riding coasters in the dark is an invigorating experience (Superman and The Grizzly both descend into pitch black), and is matched only by stepping out of one of the haunted houses relieved that the horror is over. Or is it? You'll find you never quite navigate around corners the same way again. And that's the beauty of both parks: They leave you unnerved, unsettled, unhinged. And ready for one more scream.
Kings Dominion's Halloween Haunt is open through Oct. 27. Tickets start at $32.99. Visit www.kingsdominon.com. Six Flags America's Fright Fest is open through Oct. 27. Tickets start at $34.99. Visit www.sixflags.com/America. Both parks sell "front of the line" passes, a worthwhile investment if you ask us.
[Photo by Rhuaridh Marr.]