The night started like any other performance at Ole Miss. The house lights dimmed, the stage lights came up, and our production of The Laramie Project began. As we are theater majors presenting our shows on a university campus, many of our audience members are attending because they are required to for class assignments. This means we as actors have become very used to cell phones, people wearing T-shirts and shorts, and some talking.
Near the second act, however, I noticed a shift happen. People started laughing, but they were not laughing at the show. They were laughing at us as actors, at us as people. During my monologue for the character of Harry Woods, a 52-year-old gay man living in Laramie, Wyo., I heard people talking about me, taking photos, and mocking my lines about being openly gay.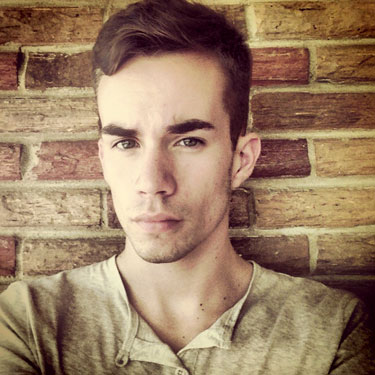 Garrison Gibbons
(Photo courtesy Garrison Gibbons)
The stage is normally a place where I feel comfortable and safe, but this time I felt threatened and terrified. I did not want to be on that stage. I was shaking. I was fearful. And I was not the only one who was attacked by hate speech.
The hecklers in the audience made rude and threatening remarks about multiple cast members, and not just about sexual orientation. Weight, gender, religion, race – nothing was off-limits to them. Backstage, some of us were crying, some were angry. Still, as a cast we pulled ourselves together and finished the show. The story was told, and I believe it started to sink in with us just how vital and relevant this story truly is.
That night, Oct. 1, I was reminded of what it has been like to grow up gay in this country, especially in the South, where I have been called "fag" or "queer" since the sixth grade. The sad truth is that this type of hate speech has been so much a part of my life that I had almost forgotten how much it hurts. It kept me in the closet until I was 18, because I didn't want to be "bad" or "wrong." I didn't want to be gay. Looking back, that's devastating, because that's simply a part of who I am.
There is something wrong here.
It is still a hostile world for the LGBTQ community, especially for LGBTQ youth. The hecklers on campus reminded me of that. Being involved in theater, I sometimes forget what it is like outside of that circle.
The world of the theater, the arts in general, is known for being very open and accepting, but I was reminded last Tuesday that this is not the case everywhere. I was bluntly reminded that my boyfriend and I are not accepted by everyone, that this "lifestyle" is condemned by some. My hope is that I can continue to provide a voice for my community and be a role model to the youth. We need to create a safe and equal world for the LGBTQ in this country.
When I first got cast in The Laramie Project, I felt an immediate connection to the text and the story of Matthew Shepard. I thought that with the recent successes of the LGBTQ community, such as hate-crime laws and the SCOTUS rulings for marriage equality, it was important to show audiences how far we have come. I never thought that the story would actually remind me along with others how much we still have to do, but it did.
In 1998, the vicious assault and murder of Matthew Shepard awakened America to hate crimes based on sexual orientation and the threats and inequalities faced by the LGBTQ community. The Laramie Project is such an important story 15 years later because we still have a lot of work to do toward achieving complete equality. People are still being bullied, young adults are still fearful of being themselves, and the LGBTQ community still does not have the rights that others have.
I will never forget this experience. It has reminded me that I have a voice and a responsibility to stand up for equal rights. Matthew Shepard's story showed the world that hate is unacceptable. I owe it to him to keep reminding us of that.
Garrison Gibbons is a theater student at the University of Mississippi. He will participate in the candlelight vigil honoring Matthew Shepard's legacy and National Coming Out Day following the Friday, Oct. 11, performance of the Ford's Theatre production of The Laramie Project. For more information, call 202-347-4833 or visit fordstheatre.org. Follow Gibbons on Twitter @thegibber.