Click here to see photographs from the High Heel Races, 2002-2012, by Todd Franson, Ward Morrison and Michael Wichita
Edging up on three decades, preparations are underway for the 27th High Heel Race, the District's annual bit of unofficial anarchy. With no official organizer, the spectacle of drag queens and other costumed revelers running in heels along 17th Street NW remains one of the few D.C. events untamed by bureaucracy.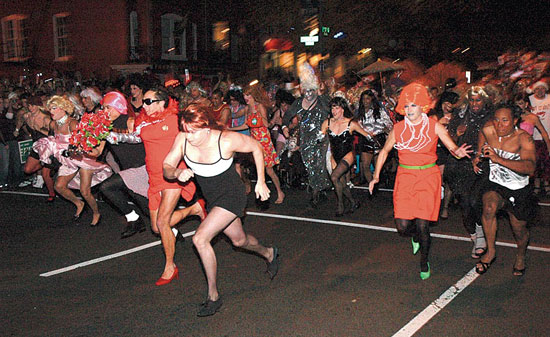 17th Street High Heel Race
Which is completely fitting, considering the race's origins.
Ronald Reagan lived in the White House, something called the Soviet Union had a space station and the AIDS epidemic was exploding. It's no wonder a few frocked fellows needed to let off some steam, which the did by challenging one another to an impromptu roundtrip race from JR.'s, where they were drinking, to Annie's Paramount Steakhouse for a shot and back.
In the years since, the race has grown beyond anyone's expectations, recurring the Tuesday before Halloween whether or not it had received the blessings of the powers that be.
As Dave Perruzza of JR.'s Bar, a primary organizer – though no owner – of the event, explained it in 2009, "It's been so many years, people just know. It's impossible to stop. It's tradition now. It's one of the biggest events of the city. … That's why the mayor is always grand marshal. We just make sure it's a safe event."
The biggest hiccup in High Heel Race history didn't even happen till 2012, when Hurricane Sandy forced a postponement. What that illustrated, however, was that the forces behind the race were at least on par with forces of nature. On the eve of the planned race, word went out that the threat of bad weather made the situation too dangerous. From there, Perruzza, city officials, the Metropolitan Police Department and others stepped up and got everything in place to move the Oct. 30, 2012, event to Nov. 1, when it went off without a hitch.
It will likely go off without a hitch next Tuesday, Oct. 29, as well. There will be one addition, however, reflecting technical advances since the era of the Commodore 64.
"This year we have Pacers on board, so we'll have a time-clock," says Perruzza, explaining that the running-shoe retailer's involvement actually goes well beyond providing racers with their run times. Pacers will also offer a live feed on its website, which has the added benefit of photo finishes, available online after the race.
"If you can't make it, you can watch it online," Perruzza promises. "It's a one-time thing for now, but if it works out, great. It's a little high-tech thing. It's kind of cool."
Watch Metro Weekly's video coverage of past High Heel Races at youtube.com/metroweekly.
Update: Our Video Editor, Aram Vartian, put together this footage of Tuesday night's festivities:
Openly lesbian director Kimberly Peirce brings a classic horror film up-to-date by infusing it with a modern — and queer — sensibility
Halloween becomes Halloweek, with plenty of spooky entertainment on tap