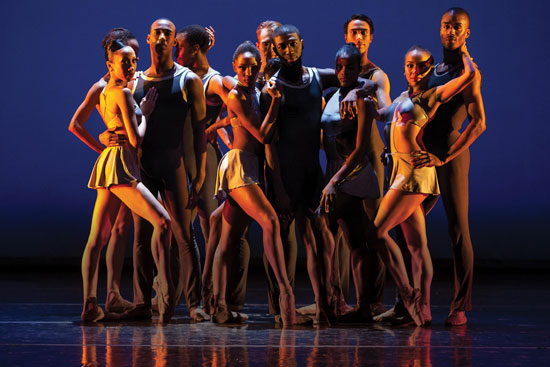 Return #1
(Photo by Matthew Murphy)
"My older sister was so clumsy," Jenelle Figgins says. "I guess my mother assumed that she'd be able to bypass a few accidents by putting us in dance."
Ultimately the move inspired three of the four Figgins girls to pursue dance as a career, including Jenelle, who next weekend returns to her hometown with the Dance Theatre of Harlem. The professional troupe, founded in 1972, performs two mixed-repertory programs at Sidney Harman Hall as part of its first national tour since returning last year after an eight-year hiatus due to financial constraints.
"I think the time that we were on hiatus, the energy that Dance Theatre of Harlem brings was missing. It's really multi-dimensional and just all-encompassing," says the 24-year-old Figgins, who joined the company last year after college in New York. Among the pieces the Dance Theatre will perform next week, Figgins highlights two, both to be performed in Program A on Thursday, Oct. 17, at 8 p.m., and Saturday, Oct. 19, at 2 p.m.: Gloria, a new work by the company's resident choreographer Robert Garland, dedicated to the Abyssinian Baptist Church in Harlem; and Past-Carry-Forward, a world premiere ballet by husband-and-wife choreographic duo Tanya Wideman and Thaddeus Davis. "The work is basically about the Harlem Renaissance and creating a new renaissance in a sense," Figgins says of Past-Carry-Forward.
An alumna of the Jones-Haywood School of Ballet, the Dance Institute of Washington and the Duke Ellington School of the Performing Arts, Figgins is a Washingtonian through and through. "I like Harlem," she says, "but I do miss D.C.!"
Naturally, she's looking forward to her homecoming next week. When asked if her family will be out in force, Figgins laughs: "Oh, definitely. They have to come!"
The Dance Theatre of Harlem, presented by WPAS and CityDance, performs Thursday, Oct. 17, through Saturday, Oct. 19, at 8 p.m., as well as Saturday, Oct. 19, at 2 p.m. A Dance Party with open bar toasting the company's return is Saturday, Oct. 19, at 10 p.m. 'Sidney Harman Hall, 610 F St. NW. Tickets are $40 to $75. Call 202-547-1122 or visit shakespearetheatre.org.