When you sit in a movie theater, you sit inside a contradiction. The theater creates a wall between your mind and body — the lights dim, the projector flickers on, and you're expected to sit quietly and watch a story. I can think of no other place in the world that makes a person feel so lonely and such a part of a whole at the same time.
All Is Lost amplifies this effect in a way few movies ever even attempt. A spiritual follow-up to J.C. Chandor's Wall Street drama Margin Call, All Is Lost is a bold, ambitious examination of mortality and the self. It opens with a nameless man (Robert Redford), floating adrift in the open sea. He writes a message and slips it into a bottle: "I think you would all agree that I tried. I will miss you. I'm sorry." And then, silence. Redford is the only actor cast in All Is Lost, and after that veritable deluge of words, he rarely says another through the course of the film. Not that we need any monologues – You can read the man's story on Redford's weathered face.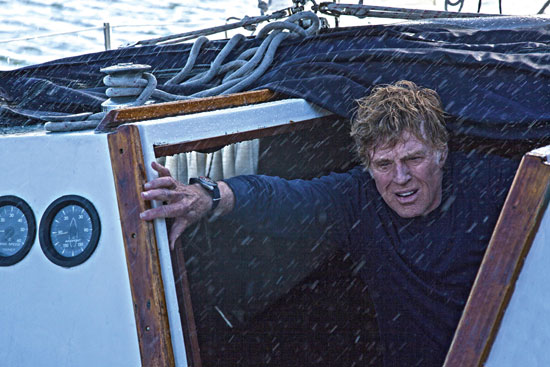 All is Lost: Redford
(Photo by Daniel Daza)
All Is Lost then jumps backward in time, explaining the circumstances that forced this man to abandon ship. Eight days earlier, a loose shipping container filled with children's athletic shoes punched a hole in the side of his sailboat. This sly detail is one of many that suggests Chandor's survival story also doubles as allegory about America and the global economy. After all, it doesn't get much more American than Robert Redford.
In fact, it's difficult to exaggerate Redford's outstanding work in this movie. The 77-year-old actor turns in one of the most physically exhausting performance of the year, all within the limited range of a character who doesn't speak. That he's able to tell this story through facial expressions alone — confidence, sorrow, anger and depression, all with a pervasive, masculine warmth — is reason enough to just give him the Oscar now.
ALL IS LOST




Starring
Robert Redford
Rated PG-13
106 minutes
Opens Friday
Chandor explored questions about the morality of survival in Margin Call, and now seems interested in an even more fundamental question: How does a person mourn his own death? It's the type of question that isn't often asked in contemporary film, so to see an actor of Redford's caliber dig into such meaty philosophy is nothing short of a delight. Chandor's fondness for ambiguity continues in All Is Lost, too, so expect lots of critical debate about the final scene.
That's the beauty of movies, isn't it? A group of strangers can sit in a room, watch a film, and see dozens of different stories at the same time. Despite the architecture of a theater, the audience is not a passive actor. All Is Lost presents theme, character, and direction. It's up to us to find the purpose and meaning lingering inside each frame.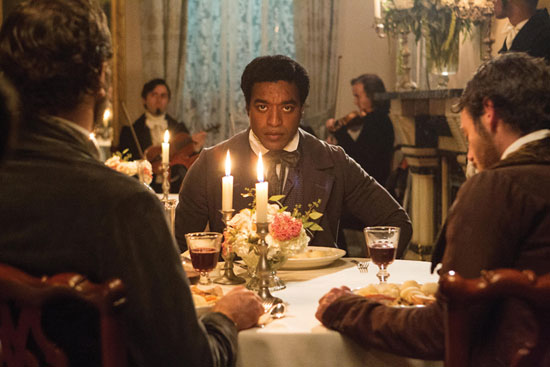 Steve McQueen's Twelve Year's a Slave: Chitwetel Ejioforas Solomon Northrup
ANOTHER SURE OSCAR CONTENDER is also steeped in meaning and purpose.
The history of slavery and the Civil War, as told by popular American cinema, is fraught with "lost cause" fantasies and ahistorical dishonesty. Director Steve McQueen has no interest in those lies — for good reason — and if only for that, 12 Years A Slave is the most challenging, honest movie ever made about slavery. It simply stands alone.
McQueen based 12 Years A Slave on the memoirs of Solomon Northup, a free black man who was kidnapped in 1841 and forced into slavery. Northup (Chiwetel Ejiofor, in an exquisite performance) is sold from one plantation owner to another, enduring scars from both the overseer's whip and the psychological torture of freedom lost. "I don't want to survive," he says to another man in an early scene before an auctioneer appraises his body. "I want to live."
12 Years A Slave is a remarkable, necessary film for any number of reasons: its willingness to engage complex opinions about slavery and survival; the firm rebukes it offers to historical misconceptions; how cinematographer Sean Bobbitt contrasts nature with the sins of slave owners; McQueen's unblinking, absolute focus on unbearable cruelty.
The most important reason, however, is also the most unsettling to consider. Although both the director behind the camera and the actor in front of it are British, this is a uniquely American tale. It stains American soil.
12 YEARS A SLAVE





Starring
Chiwetel Ejiofor
Rated R
133 minutes
Now playing
Northup was stolen from his home, his life, his family. He lost everything that made him free, eventually surrendering even his psyche to the menace that enslaved him. When he is finally freed — after 12 years, as the title suggests — he isn't anything but a shell of a person. He is a husk. And yet, he lives.
That is why a movie like 12 Years A Slave matters. It reminds us of our country's terrible iniquity. The film reminds us that we must study it and face it and call it what it was: genocide. Our American antecedents ripped families apart, slaughtered men, women and children, and built an economy on the backs of enslaved laborers. Solomon Northup lived a tragedy and survived. Millions of others did not. That is our history. That is our memory. That is part of America, forever.