While the federal government might stop, time marches on. In October, that truth may be particularly poignant for LGBT folks marking LGBT History Month. The relevance certainly isn't lost on Mark Meinke, a founder of D.C.'s Rainbow History Project historic-preservation group.
"We are always losing sites," Meinke says of that ongoing march, referring to places that hold LGBT historic significance. "One of the problems is that a lot of our historic sites are uniquely commercial, because for decades the only place you could go was a bar. And most of the bars, historically, were in sort of borderline economic areas because it was cheaper and they didn't mind if there were 'faggots' down the street."
There is reason for optimism, however, as Meinke points to a pioneering National Park Service webinar scheduled for Oct. 30. The first of its kind, this offering is designed to educate people at a grassroots level about how to secure official historic designations for LGBT sites, while at the same time offering the NPS greater insight into what sites the community holds dear.
"I have been invited to be on hand," says Meinke, explaining that he met with NPS staff in September to figure out ways to advance this effort. "We were looking at how to reach out the gay community on preservation issues. We had talked previously about having a webinar, and this sort of came out of it. They're also planning a follow-up webinar that is more of a strategizing session. This first one is more of, 'Let's get acquainted and review the issues.' The second one, in late November, is more for archivists, historians, more sort of Rainbow History Project type organizations to sit down and say, 'Okay, we need to decide what is most pressing. Which places we need to give attention to most urgently."'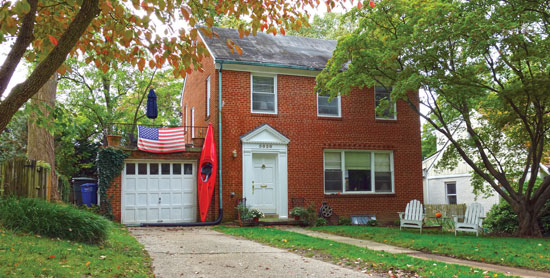 Frank Kameny house
(Photo by Todd Franson)
As it stands, there are only three LGBT-related sites that have secured national recognition of some sort. The first was the Stonewall Inn, made a National Historic Landmark in 2000; followed by the late Frank Kameny's home in D.C., which was added to NPS's National Register of Historic Places in 2011; and Fire Island's Cherry Grove Community House and Theater, added to the register earlier this year.
"There are about 80,000 sites on the National Register and about 3,000 National Historic Landmarks," Meinke explains. "The standards for National Historic Landmark are higher. The landmarks have to be signed-off-on by the secretary of the interior, whereas the National Register ones are more grassroots."
Regardless of the designation, it's still no guarantee that a site won't disappear or be properly maintained, says Meinke, adding that homes such as Kameny's might be easier to hold on to than commercial spots, such as D.C.'s gay nightlife district razed to make way for Nationals Park.
Still, Meinke says, "The point of having the National Park Service recognize an historic site is it puts it in a national context. When I was growing up, I loved going to historic sites. If you're queer, there are no historic sites for you to connect with."
On his own wish list of sites to be recognized, Meinke points to the homes of author James Baldwin and civil rights icon Bayard Rustin, and to D.C.'s LGBT community space at 1724 20th St. NW, once home to Lambda Rising bookstore and various other efforts over the years, as a few examples. He seems fully confident that the NPS is a good partner in seeing at least a few of his wishes realized.
"They are gung-ho," he says of his NPS partners. "They are very, very interested in adding to the very, very tiny number of LGBT sites. But they need people to identify them. There are only three people in the Park Service who do this, and it's a big country."
To register for the Oct. 30 NPS LGBTQ Heritage Project webinar, contingent on shutdown resolution, visit doilearn.webex.com and click the "upcoming" tab to locate this event.