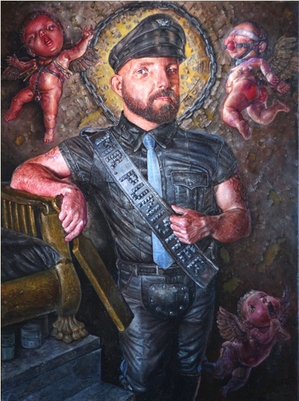 Twice a year, a diverse group of professional visual artists working in mid-city neighborhoods, centered on 14th Street NW and including Dupont and Logan Circles and U Street, open their studios for the public to meet, learn, enjoy and buy their wares. The 38 artists in the Mid City Artists group offer a range of work, from drawings to sculptures to photographs to mixed media, and include many of note to the LGBT community, among them occasional Metro Weekly cover art contributor Scott G. Brooks (that's his "The Patron Saint of Punishment" at right), Michael Crossett, Miguel Perez Lem, Gary Fisher, Glenn Fry, Brian Petro and Colin Winterbottom.
Local businesses in the neighborhood also present additional art in their establishments as well as offer specials. Among those participating this year: Batch 13, Caramel, Room & Board, Vastu, Home Rule, Peregrine Espresso, Miss Pixie's Furnishings & Whatnot and Utrecht Art Supplies.
Saturday, Oct. 19, and Sunday, Oct. 20, from 12 p.m. to 5 p.m. Mid City corridor (PDF), from Dupont to Logan Circles and north to Florida Ave NW. Visit midcityartists.com.