The same day New Jersey became the 14th state, plus D.C., to recognize same-sex couples' right to marry, advocates in Tennessee filed the latest in a string of lawsuits across the country challenging state bans on same-sex marriage.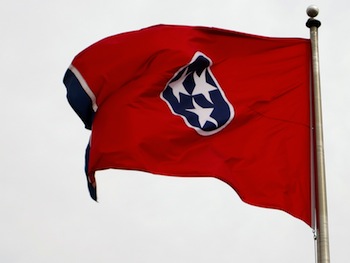 Monday's lawsuit was filed in federal district court in Nashville on behalf of four same-sex couples legally married in other states and argues Tennessee's refusal to recognize same-sex nuptials has no reasonable or rational basis and violates the U.S. Constitution.
The four couples include an Army reservist, a master's degree student, two veterinary medicine professionals and parents raising children, and are being represented by Nashville attorneys Abby R. Rubenfeld, William Harbison, Scott Hickman, Phil Cramer and John Farringer of the law firm of Sherrard & Roe, the National Center for Lesbian Rights (NCLR), and attorneys Maureen T. Holland of Memphis and Regina Lambert of Knoxville.
"Tennessee is the volunteer state – it is our tradition to honor and applaud those who voluntarily move here to enjoy the benefits of this great state – not deny them benefits and respect afforded them in other states. Tennessee traditionally values fairness and family," Rubenfeld said in a statement. "The time has come for Tennessee law to be true to those values by including same-sex couples who legally married before moving to Tennessee because this state is as much their home as it is ours."
Voters in Tennessee overwhelmingly approved a constitutional amendment banning same-sex marriage in 2006 by an 81 percent margin. Aside from denying same-sex couples access to Tennessee marriage licenses, the amendment further states, "If another state or foreign jurisdiction issues a license for persons to marry and if such marriage is prohibited in this state by the provisions of this section, then the marriage shall be void and unenforceable in this state."
According to the lawsuit filed today, by signaling out only the marriage of same-sex couples, the law demonstrates that it is "rooted in animus toward gay, lesbian and bisexual person and same-sex couples."
"Indeed, the language of these provisions, on their face, reflect that that they were intended to subject valid marriages of same-sex couples to different — and unequal — treatment in order to send a message that same-sex relationships are inferior, and the laws deprive married same-sex couples of the many protections and benefits available to other married couples under state law," the lawsuit continues.
With today's filing, Tennessee becomes one of at least 20 states where more than 35 lawsuits have been filed seeking marriage rights for same-sex couples.
[Photo: Tennessee state flag, via Wikimedia Commons.]