Calling a country "democratic" doesn't necessarily mean much when it comes to human rights. At least, not in Serbia, with its hopes of being accepted into the European Union, yet banning Belgrade's attempted Gay Pride celebration for the third year in a row – most recently, last Saturday.
Though born in Berlin, I've lived most of my 25 years in Belgrade. During the past two years, I've also spent much of my time in D.C., because my boyfriend lives there. Certainly, D.C. is a much easier place than Serbia to be gay.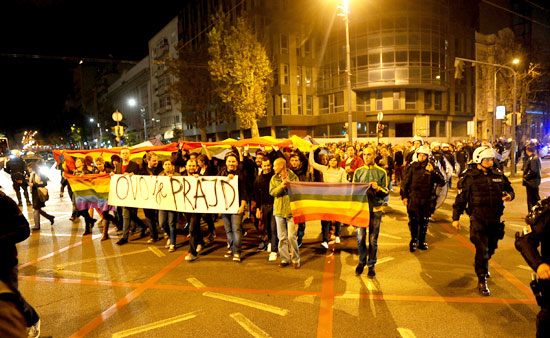 LGBT-equality activists march in Serbia, Sept. 27
(Photo by Vesna Lalic/Courtesy Viktor Vilotijevic)
Being one of the youngest out LGBT activists in the country puts me in a difficult position. I have been attacked a few times, beaten and threatened at gunpoint.
Three years ago, when we had a different political structure that was even worse than today, we still managed to hold the only legal LGBT Pride celebration Serbia has ever had. Though with more than 5,000 police, fewer than a thousand participants – mostly straight allies – and a few thousand counter-protestors of mostly soccer hooligans, Belgrade was left looking like the set of a post-apocalyptic film.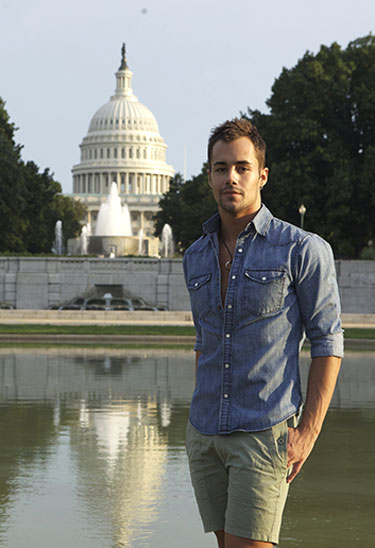 Viktor Vilotijevic
(Photo by Marko Sovilj/Courtesy Viktor Vilotijevic)
Three years later, everything was ready for another attempt, set for Sept. 28 at 10 a.m. According to Serbian law, if authorities were to cancel our Pride celebration, they had to do it with at least 24 hours' notice. Last weekend, the authorities broke the law, issuing that cancelation around 7 p.m. the night before, citing safety concerns that apparently hadn't existed earlier. We were told those concerns included threats of us being attacked with acid, Molotov cocktails and – the weirdest part – wasps in jars. But despite authorities having these vivid details, they apparently didn't have enough information to make any arrests.
Pride organizers countered by rallying supporters to gather in front of the Government Building of the Republic of Serbia that evening. About 200 of us responded, gathering around 11 p.m. Police also responded, soon outnumbering and surrounding us. Still, we walked along Kneza Milosa, a main city street, where LGBT Pride should have happened. We stopped at the Parliament, where we were told we were breaking the law with our "Guerrilla Pride." We were the "disobedients," as one government official called us, not the authorities who were denying us our right to assemble.
Yet in our outnumbered group, there were university professors, famous playwrights, actors, people from public life, ordinary people who support the LGBT community – and fewer than 10 activists, among which I was the youngest.
Together, we made clear that we are not going away. Indeed, President Tomislav Nikolic reacted the next day by saying that preparations for the next LGBT Pride should start right away. But as I am familiar with the way the things work in this country, it's hardly going to happen without the strong support of our LGBT peers in America. I am very disappointed in Serbia, but most of all in our fake democratic leaders who are not doing anything to fight discrimination of any kind, and certainly not homophobia.
Viktor Vilotijevic is a filmmaker and LGBT-rights activist based in Belgrade, Serbia. He can be contacted at viktorvilotijevic@gmail.com. Follow him on Twitter @viktorscorner.