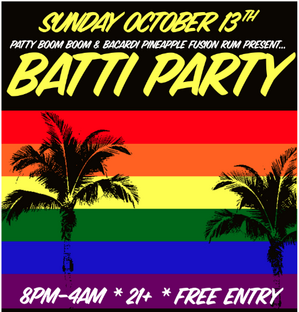 Tonight ushers in the third edition of a party at U Street nightclub Patty Boom Boom meant to celebrate tropical music genres while also advocating for gay rights in the Caribbean — especially the homophobic Jamaica, in light of the senseless murder earlier this year of 17-year-old transsgender Dwayne Jones. With support from liquor brand Bacardi, Patty Boom Boom presents the "Batti Party," referencing a Jamaican slang term for gays. All proceeds benefit the Jamaican LGBT-rights organization J-FLAG as well as Center Global, a program of The DC Center, helping LGBT activists around the world who are targets for violence and are seeking asylum and immediate help.
It's a party with a purpose — but it is a party. DJs John Jazz, Jahsonic and Keenan Orr will spin tunes with a Caribbean flavor, everything from reggae to soca to dancehall to roots music.
Batti Party is tonight, Oct. 13, starting at 8 p.m. Patty Boom Boom, 1359 U St. NW. Free. Call 202-629-1712 or visit pattyboomboomdc.com.