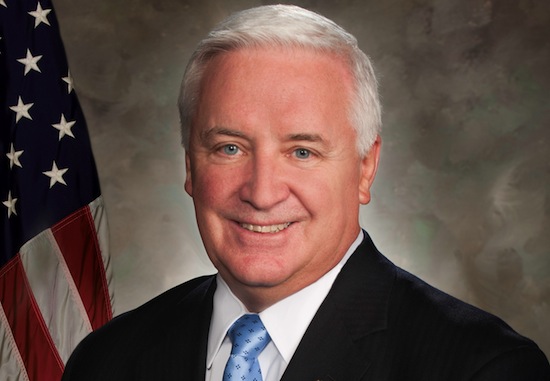 Pennsylvania Gov. Tom Corbett compared same-sex marriage to incest during a Friday interview, drawing outrage from national LGBT-rights organizations.
Appearing on WHP-TV in Harrisburg, the Republican governor disavowed a puzzling comparison made by lawyers for his administration in a recent court filing that the marriage of a same-sex couple is similar to the marriage of two 12-year-olds because neither is permitted under state law, but then Corbett went a step further.
"It was an inappropriate analogy, you know. I think a much better analogy would have been brother and sister, don't you?" Corbett asked a visibly stunned news anchor of the Friday morning TV news show.
Referring to an ongoing legal challenge to Pennsylvania's same-sex marriage ban, Corbett said the case did not belong in federal court.
"The Supreme Court left it up to the states to determine under their laws as to what is and isn't a marriage," Corbett said. "The federal court shouldn't even be involved in this. But if they say they are, then they're going to make a determination whether the state has the right to determine that a marriage is only between a man and a woman and not between two individuals of the same sex."
Pennsylvania is the only Northeastern state that does not permit same-sex marriage nor civil unions for same-sex couples and has been the epicenter of a recent push for marriage equality following the Supreme Court's June decision striking down Section 3 of the Defense of Marriage Act.
Pennsylvania Attorney General Kathleen Kane, a Democrat, announced two weeks after the DOMA decision that she would not defend the state's law prohibiting same-sex marriage. In July, the American Civil Liberties Union filed a lawsuit in federal court alleging the Pennsylvania law is unconstitutional. Just last month, a Pennsylvania judge ordered a rogue county clerk to cease issuing marriage licenses to same-sex couples, declaring the clerk's actions as outside the scope of his legal authority. And just yesterday, Pennsylvania lawmakers announced they would introduce marriage-equality legislation in the state's House of Representatives.
The Human Rights Campaign quickly blasted Corbett for his comparison of marriage equality to incest, describing the former federal prosecutor and state attorney general as part of a shrinking minority.
"Gov. Corbett proved today he is horribly out of touch with reality and does not represent the views of fair-minded Pennsylvanians," said Fred Sainz, HRC vice president for communications, in a statement. "Opponents of equality are becoming increasingly desperate these days. Gov. Corbett's remarks embody that desperation, especially as equality efforts pick up speed in Pennsylvania."
Corbett is facing an uphill battle for re-election, with an August poll finding only 20 percent of Pennsylvania voters believe Corbett deserves another term.
UPDATE: About six hours after Corbett made his original comments, the governor issued a statement apologizing to those he offended.
"My words were not intended to offend anyone. If they did, I apologize," Corbett said in a statement, according to PennLive. "I explained that current Pennsylvania statute delinieates categories of individuals unable to obtain a marriage license. As an example, I cited siblings as one such category, which is clearly defined in state law. My intent was to provide an example of these categories."
[Photo: Tom Corbett. Credit: Pennsylvania Governor's Office.]