Two Pennsylvania state representatives announced at a Thursday press conference that they plan to introduce a marriage-equality bill in the General Assembly's lower chamber that would give same-sex couples access to state marriage licenses and would recognize same-sex marriages performed in jurisdictions that already recognize marriage equality.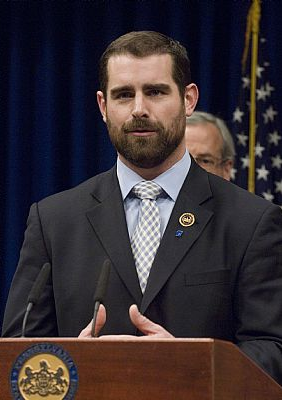 The measure, H.B. 1686, also known as the Pennsylvania Marriage Equality Act, was co-introduced by state Rep. Brian Sims (D-Philadelphia), one of two out gay legislators in the General Assembly, and Rep. Steve McCarter (D-Philadelphia, Montgomery Co.). The two made their announcement against the backdrop of Pennsylvania's Love Park, so nicknamed for iconic pop-artist Robert Indiana's Love sculpture that looms over John F. Kennedy Plaza in Philadelphia's Center City neighborhood.
"The majority of Pennsylvanians now support marriage equality, and that support continues to grow," Sims said, flanked by supporters of same-sex marriage. "Neighboring states, including New York, Maryland and Delaware, have all decided to be on the right side of history and have granted equal rights to their LGBT citizens. The time has come for Pennsylvania's Legislature to stand up and let our citizens know we see them as truly equal members of society and they have the right to choose whom they marry."
Sims also said the recent U.S. Supreme Court ruling overturning a section of the federal Defense of Marriage Act (DOMA) convinced the pair to move forward with the issue. Sims also argued that Pennsylvania's refusal to acknowledge same-sex relationships is hampering Pennsylvania's economy, as LGBT people and their allies are choosing to do business in states that have marriage equality.
"This lack of equality is holding us back," Sims said. "Where are we at in our government where you lose rights by crossing a border?"
Both legislators said they have been gathering co-sponsors and claim there is bipartisan support for the measure. Including Sims and McCarter, 36 House members, the bulk of whom are from Philadelphia and its first-ring suburbs, have signed on as co-sponsors so far, including Republican State Rep. Chris Ross (R-Chester Co.). Pennsylvania's other out gay House member, Rep. Mike Fleck (R-Huntingdon, Blair, Mifflin counties), has not signed on as a co-sponsor.
Pennsylvania currently has its own DOMA-type statute banning recognition of same-sex relationships, although there is no such ban in the state's constitution. Recent polls have shown majorities of Pennsylvanians support recognition of same-sex relationships, with support for marriage equality registering at 54 percent and support for civil unions at 65 percent in a Franklin and Marshall College poll from May. But an August poll by Franklin and Marshall also showed 76 percent of Pennsylvanians disagree with a decision by Montgomery County Register of Wills D. Bruce Hanes to issue marriage licenses to same-sex couples in the county, at least while state law currently prohibits same-sex marriage.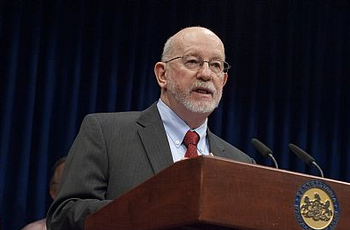 "This goes beyond simply legalizing gay marriage," McCarter said. "This is about ensuring all Pennsylvanians have equal benefits and protections before the law. Marriage equality and the benefits associated with it need to be afforded to all of our citizens, and the people of Pennsylvania support that idea. The issue is getting our fellow legislators to listen to their constituents and the voice of Pennsylvanians who are calling for this bill to proceed."
A companion marriage-equality bill was introduced in the Senate in March by state Sen. Daylin Leach (D-Montgomery, Delaware counties), and has five co-sponsors. That bill, S.B. 719, is awaiting a hearing in the Senate Judiciary Committee. But both bills likely face uphill challenges, as Republicans control the House of Representatives 111-92 and hold a 27-23 edge in the Senate.
Appearing alongside Sims and McCarter at their press conference, Sen. Leach, a registered officiant with Universal Life Church who has presided over several same-sex marriages, praised the Philadelphia lawmakers.
"For much of my tenure here in the General Assembly, I've worked tirelessly to grant same-sex couples the same rights and privileges that, currently, only a segment of the population enjoys," Leach said in a statement issued by his office. "I am thriled to see the growing support for this movement, and I am confident that we will succeed in our mission and we will end up on the right side of history on this issue."
Leach's sentiments were echoed by other supporters.
"An ever-growing majority of Pennsylvanians now agree that all consenting adults should be able to make life-long commitments to the ones they love," Rep. Dan Frankel (D-Allegheny Co.), co-chairman of the Legislature's 58-member LGBT Equality Caucus, said in a statement. "I believe the institution is strengthened when familes – gay and straight – can choose the rights and responsibilities of civil marriage."
Another member of the LGBT Equality Caucus, Rep. Mark Cohen (D-Philadelphia), introduced a bill in April that would legalize civil unions in the Keystone State, noting, at the time, that the passage of a civil-unions bill did not preclude support for a marriage-equality bill in the future, though such a compromise measure would enjoy more support among rank-and-file legislators than a marriage-equality bill would.
Still, McCarter and Sims seemed confident about marriage equality's chances.
"We're in a situation now where we're galvanized," McCarter told attendees of the press conference. "The ruling on DOMA made it apparent that marriage equality is the correct direction for Pennsylvania to follow. With a companion bill in the Senate, there is no better time for Pennsylvanians to contact their legislators and tell them now is the time to act. We can no longer afford to sit on the sidelines and watch as the rest of the country evolves to accept what should already be state law."
[Photo 1: State Rep. Brian Sims (courtesy of the Office of Brian Sims, Pennsylvania House of Representatives). Photo 2: State Rep. Steve McCarter (courtesy of the Office of Steve McCarter, Pennsylvania House of Representatives).]