It's one of the largest LGBT events in the D.C. area, it's free and it's got information, advice and entertainment. It is g.life, produced by the Capital Area Gay and Lesbian Chamber of Commerce (CAGLCC), a once-a-year giant pop-up at the Washington Marriott Wardman Park, Saturday, Nov. 9.
Major changes will be apparent in g.life U, co-chaired by Ted Smith, a D.C.-based Realtor, and Suzanne Coates, president of Techcentric Design Group LLC. All are based on feedback from last year's presenters and attendees. Says Smith, "We'll offer several sessions in two tracks: one for business owners and employees, the other for anyone wanting to better manage their lives."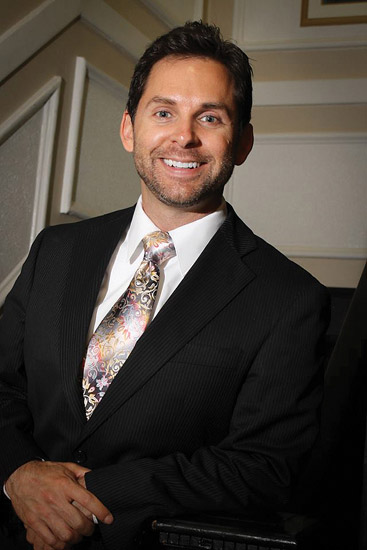 Ryan Bos
(Photo by Chris Jennings Photography)
Organizers took an inductive approach to the program. Following a call for proposals on specific topics, a planning committee reviewed and selected the winning submissions. The results are 10 50-minute-long sessions, a mix of individual speakers and panel presentations. The first session will start at 11 a.m., the last at 3 p.m. Scott Sullivan, a consultant and trainer with Velocity Consulting, will serve as moderator.
"We want visitors to have an awareness of the breadth of expertise available to our community," Smith says. "That unique expertise can be essential because we have different challenges on everything from taxes to adoption. How do we cope with them? We want visitors to know where to find solutions to challenges in life and in work."
One of the biggest changes will be the accessibility of the educations sessions. All will be held on stages set up within "Metropolis," the trade show. Signs throughout Metropolis will make it easier to know which sessions are coming up on which stage.
In the business track, here are the sessions for those thinking about starting a new organization or managing an existing one:
Making Difficult Conversations Less Difficult
Marketing Your Business Digitally
Intrapreneurship: Thriving in a Corporate Environment
For the LGBT CEO/ED/MP/Owner: Creating a Platinum Benefits Plan for the Cost of Silver
Then there are the sessions that will focus on financial and personal wellness topics:
Mind, Body and Spirit Coaching
Personal Finance for LGBT People
Benefiting from Historically Low Interest Rates
Tax Implications of Overturning DOMA
Investing in Rental Real Estate
The LGBT Financial Experience
Of course, g.life is about more than work. Anyone looking for volunteer opportunities will enjoy the g.life "Community Village." Capital Pride will host this area, under the direction of its executive director, Ryan Bos.
"Our community consists of many nonprofit organizations doing great work in supporting our LGBT community," says Bos. "Attendees will have the opportunity to meet with representatives and learn about volunteer, internship and job opportunities from these organizations."
Participating nonprofits will include The DC Center, the city's LGBT community center; the Next Generation Leadership Foundation; the Big Gay Book Group; Casa Ruby; Fairfax Pride; and Zoom Excursions.
And when not browsing booths or taking in a presentation, visitors can enjoy a break at one of the performance stages. Says Jeanie Adkins, CAGLCC's board secretary: "The g.life street performers were a hit last year and we're looking forward to this year's performances. We will have returning and new artists including singer-songwriters, guitar players, classical, Broadway and jazz singers, and an accomplished pianist/keyboardist who will be taking song requests from event attendees. We'll even have a magician! We're looking forward to entertaining the community."
Opening at 10 a.m., g.life runs to 5 p.m. on Saturday, Nov. 9, at Washington Marriott Wardman Park, 2660 Woodley Road NW. Registration for the event is free, but advance registration is requested and available on the CAGLCC website, caglcc.org. Sponsorships and vendor spaces are still available but going fast. Contact Mark Guenther at .
Robert E. McLean owns REM Association Services, a full-service association management company in Arlington.
The Chamber Means Business. For more information visit caglcc.org.