When Kimberly Peirce, director of the 1999 Oscar-winning drama Boys Don't Cry, was offered the chance to helm a remake of the 1976 horror classic, Carrie, she felt compelled to take on the project.
"It was really about digging into this phenomenal novel," says Peirce by phone from Los Angeles. "I was a kid who read a lot of books, so I knew the book very well. Upon revisiting it, it became very, very clear to me that we needed to modernize the story. What Stephen King wrote is classic, it's timeless, but it's more relevant today than it was then."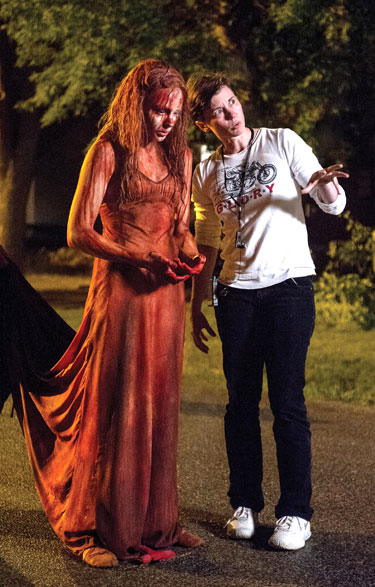 "Carrie" Director Kimberly Peirce and Chloe Moretz
(Photo by Michael Gibson)
"Our world has revolutionized," the 46-year-old director says. "We carry cellphones that we take pictures with, that we take recordings with. As we are experiencing something, we feel we need to record it. And then even upload it on the spot right to Facebook, to Twitter, to Instagram. We are obsessed with social media and with capturing our experiences and sharing them."
In the new adaptation, a socially shared video plays a central role in the ultimate humiliation of Carrie White by her classmate Chris. It's a clever touch that adds depth to the famous scene in which a pig-blood-soaked Carrie unleashes her telekinetic wrath on her classmates at the school prom. "It worked dramatically to amplify everything that was already in the story," says Peirce.
There are other modern enhancements to the screenplay, authored by gay scribe Roberto Aguirre-Sacasa, but overall the narrative remains faithful to the King source material. And while it pays homage to Brian De Palma's original in places, Peirce takes less of an over-the-top horror film approach and focuses more on the psychology behind the film's central relationships. It's a more natural-feeling film, as evidenced by the strong, deeply felt performances of Chloë Grace Moretz as Carrie White and Julianne Moore as her sociopathically religious mother, Margaret.
"Here's a mother who doesn't know what her daughter is, thinks her daughter is evil," says Peirce. "Her daughter is a reflection of the sin that the mother thinks that she committed, and the mother feels that she needs to neutralize that daughter. And yet she loves her. There's something phenomenal about the relationship. It's the spine of my movie, and in the climactic scene I try to amplify the love affair and the feud between them. Carrie wants her mother's love, she's willing to surrender [to her]."
Peirce, who has been out since the start of her career, sees the film as something today's LGBT audiences can relate to.
"Here's a misfit, a social outcast who wants nothing more than love and acceptance and faces extraordinary obstacles to get it," she says. "There's a reason why queer audiences identify with the misfit and the social outcast — because queer people have been social outcasts for so many years. … You look at Carrie White and you think, you should have the right to be accepted — it should be up to you whether you're going to be part of the mainstream or not. You should not just be outcast."
Peirce also sees the story as a superhero origin story, which she also relates to a gay sensibility.
"I think another queer part of the narrative is that Carrie gets super powers, and those super powers are like a queer person understanding they have a talent, or a queer person finally coming to terms with their gender identity or sexual preference and saying even if this is not the mainstream, it's okay. Because that's literally what Carrie says. She says to her mom, 'There are other people out there like me. I am normal, I am okay, even if you don't think so.' I've talked to lots of [gay] people about this movie and they loved the revenge tale, loved that Carrie gets even. They loved that she goes after the people that did this to her. It's an echo of what a queer person could write as a kind of corrective narrative."
When it's noted that her film, Boys Don't Cry is on the list of Metro Weekly's "Gay Films Everyone Should See," Peirce doesn't miss a beat.
"I hope Carrie becomes a gay film that everyone should see."
Carrie is now playing at area theaters. Visit Fandango.com.
The 27th High Heel Race continues a triumphant tradition
Halloween becomes Halloweek, with plenty of spooky entertainment on tap