Heather McEntire has a sweet, pristine voice that recalls country antecedents, from Alison Krauss to Dolly Parton. Yet McEntire was essentially an adult before anyone ever got to hear it.
"I was very shy as a kid and as a teenager," explains the western North Carolina native who leads the country-tinged rock band Mount Moriah as a singer and guitarist. "I didn't really start singing until I was 18. Even in church I would just kind of mouth the words." And church was about the only place McEntire heard music of any kind, outside of the country music that was always on at her grandparents' house. "My family didn't listen to music at all growing up. My mom really likes the silence," she says. It wasn't until college that McEntire got into indie and alternative rock, and realized she could put her creative-writing passion to use as a songwriter.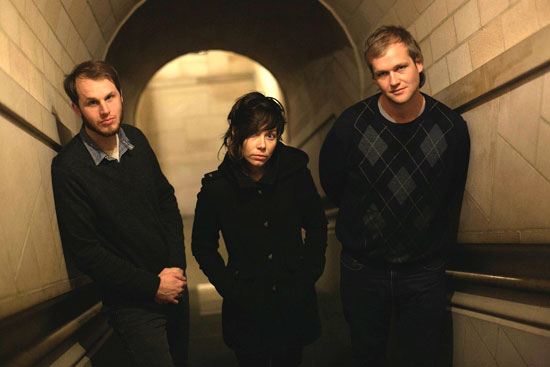 Mount Moriah
(Photo by Andrew Synowiez)
You can hear all those influences on Mount Moriah, a band started by guitarist Jenks Miller, McEntire's longtime best friend. The music is often austere and pensive, and effectively conjures thoughts and images of the rural South — though from a progressive perspective. For example, the band's self-titled 2011 debut, particularly the song "Reckoning," discusses McEntire's struggle of coming out to her family. "Mama dry your eyes, forget about the fire," McEntire sings. "Look how my face smiles and shines. Can you learn to know your child?"
"That was really scary for me, to write so autobiographical," she says, "but I needed to be very direct in that way about my sexuality." McEntire describes her parents' coming to accept her and her sexuality as "a process."
"My parents came from this small town. They worked for Billy Graham's tele-ministry," she explains. "They're opening their minds and their hearts, taking baby steps."
In fact, after coming out, there was a period in which McEntire's parents weren't in her life. But now? There's "been a lot of healing," she says, before adding they're "probably my biggest fans. It's really sweet — my dad watches all the videos, and they come to shows."
Mount Moriah opens for Sallie Ford & The Sound Outside Friday, Nov. 1. Doors at 7 p.m. Rock and Roll Hotel, 1353 H St. NE. Tickets are $14. Call 202-388-ROCK or visit rockandrollhoteldc.com.