Two weeks ago, the cover of Metro Weekly featured Scott Suchman's dramatic and incredibly evocative photo of actors portraying participants at a candlelight vigil for Matthew Shepard. I'm sure I wasn't the only one whose memories of the vigil held outside the U.S. Capitol on a cold October evening in 1998 came flooding back.
Ford's Theatre has mounted what is shockingly the first professional production in D.C. of Moisés Kaufman's powerful play The Laramie Project, first staged in Denver in 2000. The play briefly features just such a vigil when it relays the national – even international – outpouring of grief and support in the wake of Shepard's brutal beating.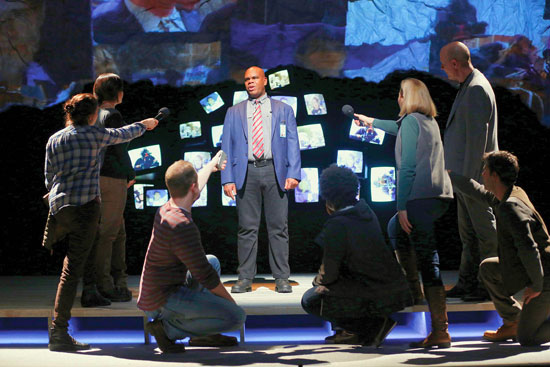 The Laramie Project
(Photo by Carol Rosegg)
Unfortunately, the vigil was candle-less the night I saw the production — because, in case you haven't heard, it has become yet another partial victim of the government shutdown. While the theater-producing Ford's Theatre Society is a non-governmental institution, the actual Ford's Theatre is owned by the federal National Park Service. In the past week Ford's has secured a smaller alternate venue, the nearby First Congregational United Church of Christ, but has decided it's too costly and cumbersome to move the elaborate set designed by Beowulf Boritt. Instead, we get a stripped-down version of the show, with just 10 actors portraying more than 60 characters, wearing Helen Huang's everyday-low-prices costumes, standing and sitting in basic folding chairs on a small stage with makeshift lighting by Rui Rita.
But this is a good news/bad news story. The bad news isn't just that there's no stage design to speak of, or that we lose out on the benefit of seeing it in the same historic venue where Abraham Lincoln was assassinated. On top of that there's the fact that Ford's Theatre is losing money on the whole affair, since it's running fewer shows at its temporary home, which also has fewer seats and cheaper ticket prices.
Of course, the good news is that Ford's thought The Laramie Project too important to cancel or even postpone. And actually, that's also great news, because The Laramie Project is an incredibly enriching experience, especially in the hands of these fine actors, many of them Washington's most celebrated. Based on real-life interviews with dozens of residents in Laramie, Wyo., conducted by Kaufman and members of the Tectonic Theater Project, The Laramie Project smoothly weaves together their stories and reflections on the tragedy that came to define the town. The play is particularly impactful because so much of the dialogue is conversational, taken verbatim from those Tectonic interviews. And it's not all sad or mad: As is their Western wont, these folk are often funny, or at least amusing.
But it takes a talented crew of actors to make even the most poetic of text sing, and director Matthew Gardiner, a veteran of musicals (most recently with Signature Theatre's Dreamgirls), proves here he can even turn a straight-play ensemble into a chorus, in a manner of speaking. It's hard to single out any one performance here, a task made even harder because each actor assumes the role of multiple bit characters, sometimes even played back-to-back, with a shift of a hat or removal of a jacket. But even occasional D.C. theatergoers will have positive associations of at least the ensemble's three boldest names: Mitchell Hebert, Kimberly Schraf and Holly Twyford.
The Laramie Project




-1/2
Temporary dates to Oct. 15
First Congregational United Church of Christ
945 G St. NW
$25
800-982-2787
www.fordstheatre.org
And if you didn't already know the name Kimberly Gilbert, a Woolly Mammoth regular, you won't forget it after seeing her here. She gives a knockout performance in her portrayal of Romaine Patterson, the high school friend of Shepard's who was inspired to become an LGBT activist in direct response to his death. In Gilbert's hands, Patterson blossoms from a slightly awkward, grieving girl to a confident, charismatic woman who at one point stares down and stands in the way of that hateful, homophobic monster Fred Phelps. Gilbert portrays Patterson with such emotional conviction, she broke into tears at one point in what might have just been a case of incredible acting, pure and fake. But even if that's all it was, it was still so magnetic as to provoke real tears here. And a lasting impression.