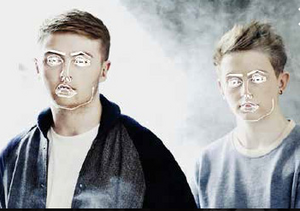 This past Monday night's show at the 9:30 Club sold out well in advance, and the crowd was far more responsive and enthusiastic than usual, even in a venue where employees and patrons are known for giving bands an unusually warm welcome.
The recipient of this warmest of warm welcomes? The British dance duo Disclosure. In less than a year, raved a critic for The Guardian, Disclosure has "ushered in a seismic shift in U.K. pop," adding: "Not since the big beat explosion of the late '90s, when Fatboy Slim and the Chemical Brothers became household names, has British dance boomed quite so loudly."
Obviously, it's a wee bit late for this, but here goes a requisite "full disclosure": If you've never heard Disclosure, do yourself a favor and don't let more time — or another concert — pass you by. Every friend I've turned on to Disclosure since I first encountered them last spring has become infatuated with their sound. It's pop music that draws from most shades of house music, from progressive to garage to soul and chillout. In fact, a spin through Disclosure's superb debut album Settle, released in June, is like taking a trip roughly two decades back in time, to a sweeter, smarter, certainly more melodic time in dance music. Nevermind that the two brothers in Disclosure can't possibly remember the dance decade they channel so well, since they had just been born: Guy Lawrence in 1991 and Howard Lawrence in 1994. (That's right, Howard is still just a teenager. So here's a special shout out to Mr. and Mrs. Lawrence, for encouraging their boys' musical passions in the first place.)
What was so noteworthy about Disclosure's 80-minute set at the 9:30 Club was just how much they put into it. By no means was this simply a DJ set from the duo, even though each Lawrence stood behind elaborate DJ consoles with knobs and faders controlling the mixing of pre-recorded music — and even though they did play through their exceptional four-on-the-floor repertoire of original tunes and remixes mostly in a continuous mix DJ fashion, with rarely a strict, pause-for-applause break between songs. But those consoles also included keyboards and various percussive effects that allowed for additional live embellishment and enhancement, such as a couple virtuoso live drum solos from Guy. Howard, meanwhile, strapped on a bass guitar to play a few tasteful riffs. Both brothers also sang live on the few songs of theirs that don't feature guest vocalists, including the stirring, sassy song that kicked off the evening, "F for You." (The "f" stands for "fool," and the sweet-voiced Lawrences proved that they had only been fooling us as producer types: They should really sing more often.)
But surprisingly it wasn't just about the music. The brothers accentuated their hooky, sharp, stylish sound with a stupendous visual production. There was, for example, an image of a fire burning on a digital screen behind the boys, plus roving red spotlights, to accent the gospel-inflected club burner "When A Fire Starts to Burn." Later came playful, swirly effects and brightly colored lights to match the carnival sound of the hip-hop-sampling track "Grab Her." And for most of the show the screen backdrop featured at least one digitally sketched silhouette of a human face, Disclosure's main motif. The image regularly moved around, winked and mouthed the words to lyrics as the crowd responded by singing in full voice.
After the brothers left the stage and the house lights came up instrumental music played for nearly 10 minutes, serenading the ecstatic but sweaty crowd as it worked its way out of the venue, which by this point had a room temperature just a few degrees shy of a sauna. "Last time we came to D.C. we had a great time, but this…," one of the brothers said in parting. He didn't need to finish the thought, getting universal agreement from even those lucky enough to have caught the boys last March at U Street Music Hall, which also presented this show at the 9:30 Club. If the venues decide to spoil us with a return engagement in only another six months or so — or maybe offer the duo a show at Merriweather Post Pavilion next summer — don't hesitate to go. It might not be "everything you ever dreamed," as the young British singer who cutely goes by the name Eliza Doolittle puts it in her guest vocals on Disclosure's punchy house jam "You and Me." But you'll be singing the band's praises all the same, I guarantee.