Offered through the lens of a debauched 1930s Vienna, the Shakespeare Theatre Company's Measure for Measure is thinking well outside the box. Using a cabaret as prologue (arrive early to catch this pre-show), Shakespeare's tale of tortured principles and hypocrisies-revealed is put into vivid, original context. It's a context that – along with some carefully placed, if silent, references – imbues this 400-year-old play with robust relevance. Like these modern Viennese, we too live in a culture steeped in a confusing stew of sexual liberation and exploitation, alternately indulged and condemned by certain of the ruling class who imagine themselves as pious as the Pilgrims.
Thus the play delivers a potent message of hypocrisy and is arguably one of Shakespeare's most contemporary. Still, there is plenty typical of the bard here, including disguises (that challenge credulity), trickery (ditto) amid a masterful blend of clever comedy and gloomy despair.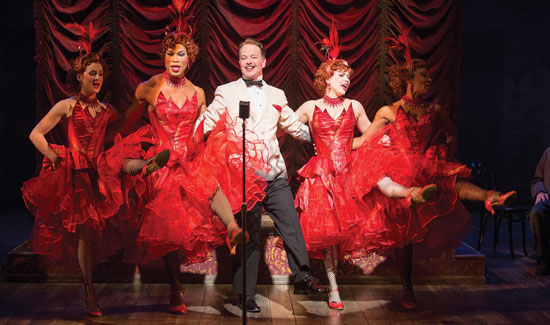 Measure for Measure
(Photo by Scott Suchman)
Surprising his staff, the Duke Vincentio announces that he will be disguising himself as a monk so that he may observe his people undetected. Equally surprising is his deputizing of the strict and puritanical Angelo to enforce the law in his absence. Crisis immediately ensues when Angelo begins his reign by condemning to death the young Claudio for impregnating his fiancée, Juliet. When Claudio's sister, Isabella, a novice preparing to take her vows, pleads with Angelo for Claudio's life, Angelo discovers that he is prey to a far more unbridled desire than Claudio. The monk/Duke soon discovers Angelo's secret: that he has demanded Isabella sacrifice her virginity (and thus her Immortal Soul, as she sees it) to save her brother and he sets in motion a plan to hoist Angelo by his own petard.
With well-conceived vision, director Jonathan Munby keeps the themes clear and the pace flowing. And though there is some turbulence in the way the standalone cabaret segues without pretense into the play, its subtext offers Munby's original (if a tad pandering) take on the deeper reasons behind the Duke's disguise. Without giving away Munby's motive, suffice it to say that while the Duke sees how the other half lives, he will be forced to see how he lives.
Launching the plot, following it and then manipulating it, the monk/Duke is an important constant in the proceedings and Kurt Rhoads carries the role well. Offering a certain Yves Montand-like charm, he brings the gravitas and often the subtlety needed to keep the Duke from becoming wooden, even if he does not always loose himself in the language.
Another constant here is Lucio, the cabaret emcee and all-around hedonist who serves as moral and comic counterweight to the Duke. Played with a campy cleverness that is far harder to pull off than it looks, Cameron Folmar is a standout for his comic edge. But even more importantly, Folmar is so at home with the genre and the language. He delivers his character like he owns it; a rare treat.
Equally strong in a different way is the compelling Miriam Silverman as Isabella. Though the novice's rather chronically pious outrage could easily grow tiresome, Silverman brings an understated honesty to Isabella that keeps her fresh and affecting. Like Folmar, her facility with the language is transformative. For Folmar it results in Lucio's easy naturalism. For Silverman, it brings the poetry and potency of Isabella's personal trial.
Beyond these three, the cast remains strong, if somewhat uneven. As the dastardly Angelo, though Scott Parkinson is always comfortable with the language, he doesn't give much color to Angelo until he turns nasty – even if he is memorable once there. And though he brings all the right energy and emotion, Avery Clark cannot yet yell with nuance (and, yes, it can be done). Both Eric Martin Brown and Jack Wetherall acquit themselves well as the Provost and Escalus, even if neither quite meets the difficult challenge of giving dimension to these more thinly drawn characters. Delivering the best of these smaller roles, Chris Genebach gives his genial degenerate Pompey an enjoyable counter-culture vibe and, once in full swing, shows he can deliver his Shakespeare (as well as having the kind of charisma that belongs in the next AMC blockbuster; and that's a compliment).
MEASURE FOR MEASURE




To Oct. 27
Lansburgh Theatre
450 7th St. NW
$40-$100
202-547-1122
www.shakespearetheatre.org
In the even smaller roles, Dan Istrate is as clever as he is giggle-worthy as the repugnant Barnadine; Katie deBuys keeps her beleaguered fiancée Juliet just as large and real as she should be; and Naomi Jacobson's bawdy Mistress Overdone is as fun as she is convincing. Finally, Natascia Diaz is quietly compelling and mysterious as Mariana, the woman Angelo has left behind. Though these roles may offer only a handful of lines, done with such imagination and artistry, these players fill every corner of the production with something fun or wonderful to watch.
And Munby gives us one thing more. Dancing the cabaret, making up its waiters and audience and then playing the extras throughout, the ensemble here does more than just support the action. Whether as onlookers, paid performers, victims or witnesses to the hypocrisies of their world, each as easily as any Claudio or Isabella, is vulnerable to being singled out. Munby offers not just a faceless, nameless ensemble. Though they may be decades younger, fitter and prettier, they are us.