When Tracey St. Pierre was 16-years-old, she fell in love with a girl from her high school. They were head over heels for each other but as children of Charlotte, N.C., neither was out and their relationship was anything but public.
"We were closeted in a secret relationship for two years," says St. Pierre. "We basically pretended to be straight, just best friends."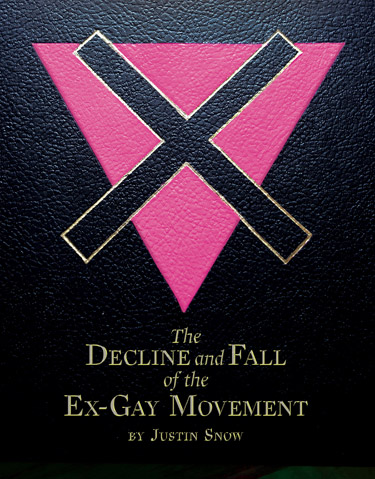 The Decline and Fall of the Ex-Gay Movement
It was the 1970s, and the modern gay-rights movement sparked by the Stonewall Riots in 1969 was in its infancy. There were few gay role models and the anti-gay right was winning. The Rev. Jerry Falwell formed the Moral Majority in 1979 and, as St. Pierre recalls, "Anita Bryant was on a rampage down in Florida," successfully leading the "Save Our Children" campaign to overturn a sexual-orientation nondiscrimination statute. "There were no positive images about homosexuality or being gay," she says.
St. Pierre didn't come from a particularly religious family. With four brothers and a sister, she describes her parents as "run of the mill Methodists." However, as she left for the University of North Carolina, Chapel Hill, in 1980, societal pressures to be straight closed in. "I had a friend talking about God and the Bible and in my mind, you couldn't be gay and a Christian because no one was saying that. Everyone was saying it's a sin, you'll go to hell, you can't be gay," St. Pierre says. "I remember going to the library on campus and looking for books about being a gay Christian to find out if it were possible." Desperate to talk to someone about her secret, what St. Pierre found instead was a religious group called Maranatha Campus Ministries. "They were basically a right-wing Christian cult that said you could be healed through prayer," St. Pierre says.
Founded in 1971 as a youth center in Kentucky, the ministry soon expanded across the United States and took up the mantle of the Christian right during the 1980s. Part of the Charismatic Christian movement, the group was highly authoritarian and controlling. With a spiritual counselor who essentially advised St. Pierre on every aspect of her life, it wasn't long before her relationship with her high school sweetheart began to raise suspicions.
"She had heard me talk about my friend back home a lot, I guess. She asked me if I were — she used the term 'homosexual' — and if I was in a relationship with this woman and I said yes. She told me that God didn't make me gay, that God could heal me and make me straight and give me a husband and God wanted me to be 'normal,'" says St. Pierre. "So we prayed and she had me renounce the demon of homosexuality and she laid her hands on me and cast that demon out of me. And I accepted it. I believed it."
On her next trip home, St. Pierre broke off her relationship with her girlfriend in a manner she describes as "self-righteous" and "preachy."
With a policy that did not permit dating, the group proved a perfect haven for someone trying to avoid dealing with their sexuality. "Basically [they believed] God would tell you who you were going to marry. You'd pray about it and go talk to your counselor and pastor about it and they'd advise if it was God's will and the guy would propose to the girl and they'd get married," St. Pierre says.
St. Pierre would be a member of the ministry for the next 12 years and celibate for nearly 15 years.
"During that time I would pray, fast and beg God to change me and to change my desires. I think I was in self-deception for a lot of that time because during that time I didn't really allow myself to have feelings for women, but when I look back I can see all these crushes that I had on all the different women," St. Pierre continues. "And, somehow, God never told me I was going to marry a guy."