I consider myself fortunate that I took off last week to work on another project because about the last thing in the world I wanted to write about was the Republican shutdown of the government over Obamacare and anger-management issues. While I'm confident no one in the world hyperbolizes as hyperbolizingly as I hyperbolize, I rest easy knowing that the nation had plenty of overwrought, dramatic commentary in my absence. There's little remaining that has not been said.
I will not, however, allow that to stop me from writing about Republican Sen. Ted Cruz.
It is entertaining to watch some of D.C.'s biggest congressional assholes lining up to lay into Cruz, a Texas senator who is such a pure distillation of the attitude that he could be the Higgs boson particle of assholishness. "Ways Ted Cruz is an ass" would be the largest Jeopardy category ever. If we were to build an equal-but-opposite memorial from Mount Rushmore — perhaps, say, Mount Tush-more — Cruz's posterior would be chiseled first.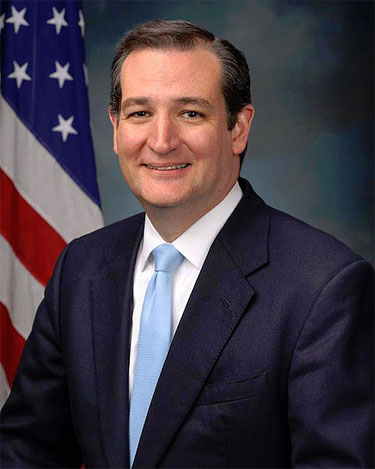 Sen. Ted Cruz
Naturally, something set me off on this rant, a tweet sent out by Cruz upon his return to Texas: "It's great to be back home — I've spent the past month in Washington, D.C., and it is great to be back in America!"
I've rewritten this sentence you're reading right now because I've pledged to be a little nicer in my attitude and language, so just assume the high level of profane argle bargle I first spewed. I've written plenty of times about the ways in which the "real America" canard offends me as an American who was raised rural and went on to live urban. The idea that true Americans only come from certain portions of the country — basically places with short buildings, large fields and a smaller population than contained in one D.C. zip code — is just the juvenile raging of white people who can't abide the idea that they are no longer automatically at the top of the heap.
I should note that I think those aggrieved white people are just as American as my own white, suburban, interracially gay-married self because that's the whole point of being an American. Perhaps one day they'll return the favor.
Though that's not likely anytime soon given that they are the only demographic remaining in America that thinks Ted Cruz is pretty neat.
What's amazing to me about Cruz is that he can simultaneously push my buttons on two completely contradictory tendencies in my thinking. First, there's my egalitarian belief in a meritocratic and pluralist society, which is angered by Cruz's appeal to know-nothing, America-first jingoism. Second, there's my reactionary antipathy to the American elites of inherited wealth and Ivy League societies, of which Cruz is one of the most spectacularly extant examples.
Given that I went to a private college (that I put myself and family into debt for), I realize that my second tendency toward class warfare is not one of my better angels and I generally attempt to compensate for it. But someone like Cruz — whose history of snotty assholism to anyone he perceives as lesser, which is apparently everyone, is well-documented — I can't compensate for. It's like waking up and finding the country is being run by some of the most awful people I remember from college. The fact that I graduated college with the Kentucky Senate candidate who's running against Mitch McConnell from the right only makes the situation more surreal and maddening.
I always knew the day would come when people my own age would begin taking on the higher levers of government and power. With the emergence of Ted Cruz, I hope Generation X can do better. And soon.
Sean Bugg is editor emeritus of Metro Weekly. Follow him on Twitter @seanbugg or email him at seanbugg@gmail.com.