Two recent polls show Democratic candidate Terry McAuliffe leading Republican Attorney General Ken Cuccinelli in the race for Virginia governor, but both candidates have less than 50 percent support in a three-way race with Libertarian candidate Robert Sarvis.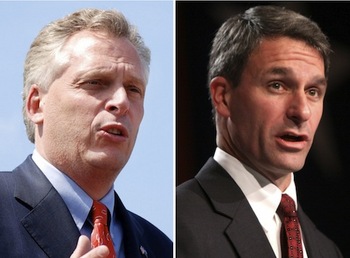 McAuliffe, a supporter of LGBT rights, leads Cuccinelli, a vocal opponent of the LGBT community during his time as state senator and as attorney general, by 9 points, 47-38, among likely voters in a new poll released by the Wason Center for Public Policy at Christopher Newport University, located in Newport News, Va. Sarvis gains 8 percent of likely voters, and another 7 percent say they are undecided. Among registered voters generally, McAuliffe's lead shrinks to 43-38, with Sarvis earning 9 percent and "undecided" garnering 11 percent.
The Wason Center poll surveyed 1,004 registered voters and 886 likely voters, and has a margin of error of 3.1 percentage points.
McAuliffe also leads by 9 points in a POLITICO poll conducted by Democratic-affiliated firm Public Policy Polling and Republican-leaning firm Harper Polling, 44-35, with Sarvis earning the support of 12 percent of likely voters, and 8 percent of voters saying they are undecided.
The poll found all three candidates sport negative "favorability ratings," with 49 percent of likely voters saying they view McAuliffe unfavorably, compared to 39 percent who view him favorably. Cuccinelli sports a 34 percent favorability rating, and a 56 percent unfavorable rating among likely voters. Even Sarvis is underwater, though by a much smaller margin, with only 20 percent viewing him favorably, comared to 23 percent who view him unfavorably.
The POLITICO poll also asked likely voters in the state whether they supported or opposed the federal government shutting down over the implementation of the Affordable Care Act, President Obama's signature health care law. In response, 62 percent of likely voters opposed the shutdown, 31 percent supported it, and another 7 percent weren't sure of how they felt about it. Among those who oppose the shutdown, McAuliffe leads Cuccinelli 64-16, with Sarvis garnering 12 percent of voters.
The POLITICO poll surveyed 1,150 likely voters from Oct. 5 to 6 and has a margin of error of 2.9 percentage points.
The Wason Center provided crosstabs for the governor's race that showed various levels of support for the three candidates among key demographic groups. Among women voters, McAuliffe leads the pack with 50 percent, Cuccinelli with 38 percent, and Sarvis with 6 percent, and 7 percent undecided. McAuliffe also leads Cuccinelli among men, though by a smaller 46-37 margin, with Sarvis earning the support of 9 percent of male voters and 8 percent saying they're undecided. Cuccinelli has a 3 point lead among white voters, winning 44 percent to McAuliffe's 41 percent and Sarvis's 9 percent. McAuliffe leads among black voters, winning 83 percent to Cuccinelli's 8 percent and Sarvis's 2 percent. But the Wason Center pollsters noted in their summary of the resutls that McAuliffe's lead among black voters is lower than support for President Obama and 2009 Democratic nominee Creigh Deeds, who eventually lost to Gov. Bob McDonnell (R).
Geographically, McAuliffe leads Cuccinelli and Sarvis 58-30-6 in Northern Virginia and 46-39-7 in the Richmond area. Cuccinelli enjoys only a 1 point lead over McAuliffe in heavily Republican southern and southwestern Virginia, 44-43, with Sarvis grabbing 8 pecent of voters. But Cuccinelli leads in the Hampton Roads area, 43-37, with Sarvis grabbing 13 percent of voters.
The Wason Center's polling memo notes that McAuliffe's underperformance among African-Americans may be hurting him in the Hampton Roads area, where "the black vote is especially significant." Cuccinelli's recent television and Web ads, notably, seem to be targeting black voters: One features Richmond School Board member Tichi Pinkney Eppes, an African-American, pushing back against charges that Cuccinelli is pursuing an extreme agenda and touting her support for the Republican; and another focuses on Cuccinelli's efforts to free a wrongfully convicted man, Thomas Haynesworth, also African-American, who spent 27 years in prison on a rape charge until Cuccinelli's office was able to secure his exoneration.
The Wason Center poll also provided head-to-head results betweent the candidates for lieutenant governor and attorney general. In the lieutenant governor's race, Sen. Ralph Northam (D-Norfolk, Virginia Beach, Mathews, Northampton, Accomack counties), an LGBT legislative ally, leads Chesapeake-based lawyer and minister E.W. Jackson, 48 percent to 37 percent. Jackson has come under fire from liberal groups for his controversial statements, particularly those expressing an anti-gay animus, including referring to gay people as "perverted," "degenerate," "spiritually darkened" and "frankly very sick people, psychologically, mentally and emotionally" in a past radio interview. According to the website Right Wing Watch, a project of People for the American Way, he also has said gay marriage is like "spitting in the face of every Bible-believing Christian in America" and that homosexuality is "killing black men by the thousands," in response to a question about the HIV rate among black men who have sex with men.
Jackson later claimed during a Nov. 24 debate with Northam that his controversial remarks had been "taken completely out of context" from some of his sermons, and said he would separate his church life from his role as lieutenant governor if elected. This prompted the liberal Super PAC American Bridge 21st Century to post a video with various radio and video interviews of Jackson saying disparaging things about the LGBT community, followed by a question splashed across the screen, asking, "How's That Out of Context?"
Northam performs better over Jackson than McAuliffe over Cuccinelli in several different areas, posting leads of 55-28 in Northern Virginia, 48-37 in the Richmond area, and even 48-37 in southern and southwestern Virginia. But he leads Jackson narrowly, 45-43, among voters in the Hampton Roads area.
In the attorney general's race, Sen. Mark Herring (D-Loudoun, Fairfax counties) is locked in a dead heat with Sen. Mark Obenshain (R-Harrisonburg, counties), leading him 45-42, a spread within the poll's margin of error. Herring has attempted throughout the campaign to tie Obenshain to Cuccinelli and Jackson, as well as attacking Obenshain's previous votes on social issues, including a 2009 bill that would have forced women who miscarry to report their miscarriage to the police within 24 hours, and several votes against LGBT rights, including opposing an employment-nondiscrimination legislation, and voting against the nomination of out gay judge Tracy Thorne-Begland.
Herring leads Obenshain by a 52-30 margin in Northern Virginia, and by a slim 47-44 edge in the Richmond area, but lags behind the Shenandoah Valley native in southern and southwestern Virginia by 10 points and in Hampton Roads by 14 points. Unlike his fellow Democratic running mates, Herring doesn't have a strong lead among women, as he's tied with Obenshain at 45 percent among female voters. According to Quentin Kidd, director of the Wason Center for Public Policy, "The attorney general's race is wide open, and neither campaign can afford to let up or make any mistakes. The Obenshain campaign appears to be avoiding a down-ticket backlash from female voters, but there is still a lot of uncertainty in this contest."
[Photos: Terry McAuliffe (left) and Ken Cuccinelli. Credit: Kate Wellington and Gage Skidmore/Wikimedia Commons.]