The Virginia governor's race between Democrat Terry McAuliffe, Republican Ken Cuccinelli and Libertarian Robert Sarvis has been grabbing most of the political headlines, but the fate of the commonwealth's LGBT community will most likely will be decided by the results of races further down the ballot this November.
In the homestretch to Election Day, Nov. 5, McAuliffe seems to have a slight edge over Cuccinelli – with Sarvis trailing both – leading in most polls by mid-to-high single digits. Different polls of the lieutenant governor's race show Democratic state Sen. Ralph Northam with either a slight edge or a wide margin over Republican E.W. Jackson. A Northam win would require a special election to fill his Senate seat. Another Democrat, coupled with the lieutenant governor's role as Senate tiebreaker, would hand control of the evenly split Virginia Senate to the Democrats. But the success of any pro-LGBT legislation will depend on changing the culture in the House of Delegates, a redoubt for anti-gay lawmakers, dominated by conservative Republicans from safely gerrymandered districts.
"The governor's race usually gets the most attention in an election year," says Geoffrey Skelley, the associate editor of "Larry J. Sabato's Crystal Ball" at the University of Virginia Center for Politics. "However, it is possible that with two controversial candidates in the governor's race, the races further down the ballot could be overshadowed."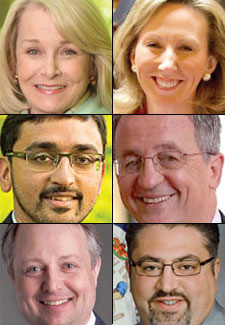 Also read: 13 Races to watch in 2013
But Skelley also says that if the race continues on its current path to a McAuliffe victory, it could affect some delegate races.
In the 100-member House, 29 races feature a Republican running unopposed, and 15 a Democrat unopposed. That leaves 56 contested seats, some even by third-party candidates. Those contested seats – 40 Republican-held, 16 Democratic – are key to ensuring that any LGBT-friendly legislation gets a fair hearing in committee, let alone an up-or-down vote by the full House.
Typically, bills such as SB 701, which would have prohibited discrimination in state employment based on sexual orientation and gender identity or expression, have been killed by House committees or subcommittees stacked with anti-gay legislators. If Democrats were to pick up seats in the lower chamber, they could potentially work with moderate Republicans to dilute the hard-line, conservative bloc.
Adding to the hopes of LGBT rights advocates, nearly 60 percent of this year's competitive races are located in Democratic-leaning regions of Northern Virginia or Hampton Roads, with three-quarters of those races in the five counties closest to Washington.
Skelley says some legislators from more liberal-leaning areas have already distinguished themselves from the rest of their caucus, particularly on more hot-button social issues such as abortion or LGBT rights.
"Tom Rust is a perfect example," Skelley says of the former mayor of Herndon and six-term Republican delegate who represents parts of Fairfax and Loudoun counties. "He occupies the most 'Democratic Republican-held seat,' so he supports things like gay rights not only because he's a relative moderate, but because he and other Republicans recognize that they might not be able to attract moderates in those districts if they go really conservative."
Skelley also points out that Democrats have begun pouncing on social issues that, as recently as 2006, would have worked against them politically. But now, bolstered by a sea change in public opinion on issues like marriage equality or nondiscrimination, those stances are advantageous.
"With shifts in public opinion and the fact that young people just don't care about these issues, most Democrats recognize that being pro-gay marriage is beneficial politically," he says. "They get to come out in favor of it and, in doing so, force their opponents to take a stand, and hope they say something embarrassing or controversial."
James Parrish, the executive director of the nonpartisan statewide LGBT-rights organization Equality Virginia, says it is important for voters of any political stripe who care about equality to focus on the down-ticket races.
"We want to make sure everyone's paying attention to the attorney general's race," Parrish says, pointing to it as an often-overlooked contest. "We feel that some of the mainstream press has been giving [Republican state Sen. Mark] Obenshain a pass on his sudden 'conversion' on nondiscrimination. He voted against the nondiscrimination bill when it passed the Senate in January, and walked off the floor rather than vote for an openly gay judge."
"Obenshain votes the way Cuccinelli talks," Parrish warns.
Parrish says voters need to look closely at House candidates' positions and voting records, which is why EVPAC, the political-action arm of Equality Virginia, has endorsed some pro-equality candidates, and has posted the written responses to its endorsement questionnaire from all General Assembly candidates on its website. EVPAC has also been organizing volunteers to canvass and call prospective voters on behalf of some of its endorsed candidates.
"I believe, particularly if there's higher turnout, we will definitely see a General Assembly that has more LGBT-friendly faces," Parrish says. "It's a long haul, particularly after two decades of GOP-led redistricting in the House."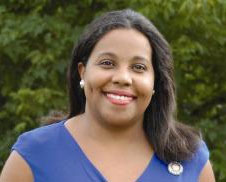 Charniele Herring
Del. Charniele Herring (D-Alexandria), who also serves as party chair of the Democratic Party of Virginia, says there has been a marked shift in attitudes on LGBT rights, which is prompting Democrats to be more vocal about their support for the LGBT community.
"People are becoming bold. They realize when they don't speak out, bad things can happen," Herring says, referring to anti-LGBT legislation that has passed the House in the last two legislative sessions.
But Herring is also honest about the political realities in the General Assembly. Many lawmakers, she says, particularly Republican House members, are scared of facing a primary challenger if they support any form of progressive legislation. That, she says, means LGBT advances are dependent on the electoral success of Democrats.
"Until we start picking up more seats, it's going to be a few years before we see legislation like that pass," Herring says. She notes that the Democratic Party has been encouraging liberal-leaning voters who typically vote in federal elections but stay home in odd-year elections to turn out at the polls.
"If you supported Obama, if you supported Tim Kaine, you need to vote, because those policies you care about on the federal level can easily be pushed back at the state level," she says. "Your vote is your franchise. Your ability to vote today determines the rights you enjoy tomorrow."
David Lampo, a national board member for the LGBT group Log Cabin Republicans and a former vice president of the Northern Virginia Log Cabin chapter, says that the organization's political action committee (PAC) is not disbursing any funds, as the group is in the process of reorganizing itself. But he notes that the PAC has supported lawmakers such as Tom Rust, Jim LeMunyon (R-Farifax, Loudoun counties) and Dave Albo (R-Fairfax Co.) in past election cycles.
Lampo says that Log Cabin of Northern Virginia is not holding chapter meetings, but is encouraging members to reach out and volunteer with individual campaigns. The group, he says, will likely post something to its Facebook page encouraging its members to vote for five candidates they view as allies: Rust, LeMunyon and Albo; as well as Del. Joseph Yost (R-Radford, Montgomery, Giles, Pulaski counties) and Del. R. Lee Ware (R-Chesterfield, Fluvanna, Goochland and Powhatan counties), both of whom signed on as co-patrons of the failed employment-nondiscrimination bill this past session.
In addition to Democratic and Republican candidates, six Libertarian Party candidates are running for House seats. According to the party's platform, "sexual orientation, preference, gender or gender identity should have no impact on the government's treatment of individuals, such as in current marriage, child custody, adoption, immigration or military service laws."