West Virginia became the latest state to face a federal lawsuit challenging the state's same-sex marriage ban following a Tuesday filing by Lambda Legal.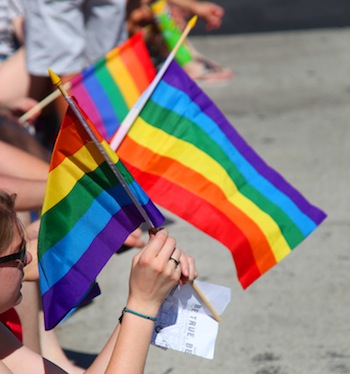 Filed in the U.S. District Court for the Southern District of West Virginia on behalf of three same-sex couples and the child of one of those couples, the lawsuit argues the state's same-sex marriage ban violates the plaintiffs' guarantees of liberty and equal protection under the 14th Amendment of the United States Constitution.
"Every day that same-sex couples in West Virginia are denied the freedom to marry, the government sends a message that they are second class citizens and their families are not worthy of equal dignity and respect. West Virginia's state motto 'Mountaineers are Always Free' is hollow until all West Virginians—no matter who they love—have the freedom to marry," said Beth Littrell, staff attorney in Lambda Legal's Southern Regional Office, in a statement.
"West Virginia is home for us. Our family is here, our jobs are here, and our community here is a great support for us," said Nancy Michael, one of the plaintiffs in the case, who has a 6-year-old son. "Jane and I have been together for 16 years. We live and work together, and we are raising our son, Drew, together. We have done everything we can to protect and take responsibility for our family but we worry all the time that it isn't enough. We need the protection that marriage affords."
According to Littrell, the lawsuit is part of what advocates call the final frontier in the fight for marriage equality: the American South.
"The fight for the freedom to marry has come south. We do not want a country divided by unfairness and discrimination," said Littrell. "Same-sex couples are in loving, committed relationships in every region of our nation and should be treated the same way, whether they live in Maine or West Virginia."
The lawsuit is one of dozens pending in many of the 37 states with constitutional amendments banning same-sex marriage. Although there have been numerous attempts by the West Virginia Legislature to pass a constitutional amendment banning same-sex marriage, those efforts have been unsuccessful. However, lawmakers did approve a statute in 2000 prohibiting the government from recognizing or performing same-sex marriages.
Just yesterday, the star legal duo who challenged California's Proposition 8 — conservative attorney Ted Olson and liberal attorney David Boies — announced they would join a case challenging Virginia's same-sex marriage ban, with their sights set on a sweeping ruling by the Supreme Court declaring a constitutional right for same-sex couples to marry. Meanwhile, in New Jersey, the administration of Republican Gov. Chris Christie requested the state's Supreme Court hear an appeal to a state judge's ruling that New Jersey must begin conducting same-sex marriage beginning Oct. 21.
[Photo via Wikimedia Commons.]