Whitman-Walker Health (WWH), the local community health center specializing in LGBT-sensitive care and HIV/AIDS, has submitted evidence of extensive anti-LGBT discrimination in health care to the Office for Civil Rights (OCR) at the U.S. Department of Health and Human Services (HHS) in an effort to combat the problem.
Whitman-Walker submitted the comments Sept. 30 in response to a general OCR request for such information, which the office plans to use to counter anti-LGBT discrimination under the Affordable Care Act (ACA), also known as Obamacare. Under the ACA, no health care provider or institution receiving federal funds, nor health insurance plan operating under the ACA or administered by the federal government, is allowed to discriminate on the basis of race, color, national origin, sex, age or disability.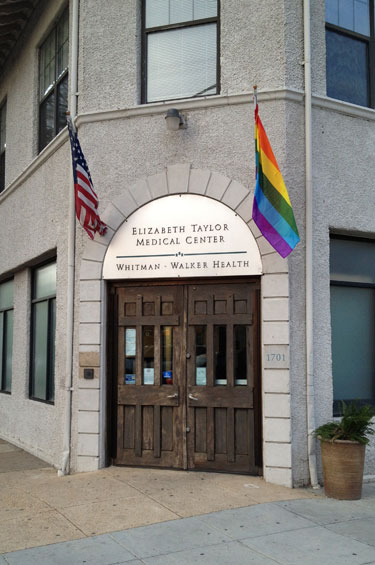 Whtiman-Walker Health's 14th Street location in Washington, D.C.
(Photo by JD Uy)
As part of its response to OCR, Whitman-Walker documented widespread discrimination by health insurers, hospitals, clinics, nursing homes and other health centers against people because of their sexual orientation or gender identity. Most of that discrimination was aimed at transgender people, though lesbians, gays and bisexuals were all represented in the evidence.
Such instances of discrimination may include the refusal of health plans to cover same-sex spouses, the refusal of health plans to cover health needs of transgender people, the failure of hospitals and health care centers to allow visitation rights to same-sex partners, and even the refusal to treat LGBT patients in physical distress, as well as hostile attitudes or inappropriate comments by health care professionals.
"Discrimination against LGBT individuals and families in health care occurs too often," Dr. Raymond Martins, WWH's chief medical officer, said in a statement. "The risk of encountering discrimination and misunderstanding makes many LGBT persons reluctant to seek regular medical care – and to tell their doctors everything they need to know about themselves. Gay and bisexual men, lesbians and transgender individuals are at greater risk of some cancers, infections, mental health issues and smoking, and alcohol and drug abuse. They need culturally competent medical and mental health screening to help us eliminate the health disparities that have resulted from social stigma and discrimination.
"By discouraging LGBT people from seeking regular medical care and fully disclosing all aspects of their lives to their health care providers, discrimination harms the public health. As a health center specializing in LGBT health, we are happy to have this opportunity to offer our insights to HHS in fulfilling the promise of the ACA."
In an Oct. 2 press release, Whitman-Walker reported that it has urged HHS, in its submission to OCR, to follow the lead of other federal agencies and conclude that "discrimination based on sex" includes discrimination against the LGBT community.
"For many years, courts and civil rights agencies refused to apply the laws against sex discrimination to transgender people and to people suffering discrimination because of their sexual orientation, but this is changing," Daniel Bruner, the legal services director at Whitman Walker, said in the WWH release. "More courts and civil rights agencies are recognizing that when, for example, a person who has transitioned from male to female is rejected from a job because she has changed her sex, or when a young woman is harassed in school because she acts 'too masculine,' or when a gay man is harassed and then fired from a job because 'real men' don't love other men, what is happening is sex discrimination."