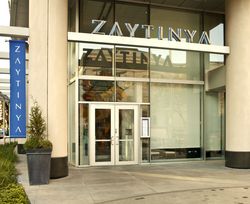 As the government shutdown has stress levels skyrocketing across the Washington metro area, chef José Andrés is offering a unique opportunity to blow off some steam.
This Saturday, Oct. 5, from noon to 4 p.m., Andres's Mediterranean restaurant, Zaytinya, will host a "Greek Harvest Patio Party." For $10, attendees will be able to stomp on grapes, kick up their heels and dance to live music, enjoy a glass of wine or grape juice, and snack on some delectable eats.
Spanish-born Andrés, who is in the process of becoming a U.S. citizen, also announced yesterday that any furloughed federal employee is eligible for a free sandwich at Zaytinya as well as at his Jaleo and Oyamel restaurants. From Twitter:
a free sandwich on me, people furloughed, btwn 3-5 pm, everyday until it's over. @jaleotapasbar dc md va @ZaytinyaDC @oyameldc, Gov't ID!

— José Andrés (@chefjoseandres) October 1, 2013
Zaytinya is located at 701 9th St. NW. Call 202-638-0800.
[Photo: Zaytinya. Credit: Greg Powers & Audrey Crewe]