"Have we really come very far in terms of acceptance?"
Actor Michael Stebbins says that's a question provoked by the play I Am My Own Wife, whose central character is Charlotte von Mahlsdorf. This real-life German transvestite somehow managed to escape notice and persecution by the Nazis as a boy dressed in girl's clothes. Nearly a half-century after Germany's darkest chapter, von Mahlsdorf warned her compatriots that she saw renewed flickers of intolerance.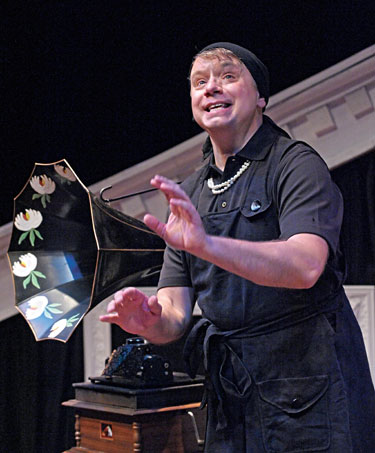 Michael Stebbins in "I Am My Own Wife"
(Photo by Stan Barouh)
"Charlotte in the play is interviewed on a German television show in the early '90s and says that anti-Semitism has come back and so has homophobia," explains Stebbins, who plays von Mahlsdorf — and the play's dozens of minor characters to boot — in the production of Doug Wright's play now at Columbia's Rep Stage. Rep Stage is actually the fourth theater company in the D.C.-Baltimore region in only the past seven years to stage the show, which also scooped up every major American theater award a decade ago, including the Tony and the Pulitzer Prize. Stebbins thinks the play's success and perennial popularity comes from its focus on the ever-morphing but also ever-relevant "idea of acceptance, whether it be color of skin, religion, preferences of any kind. We're still talking about stuff that's very current."
Of course its construction as a one-man show adds appeal to both actors seeking a showcase for their range and theater companies seeking a savings from standard show costs. "For one union actor, you get 25 characters," Stebbins says, laughing, "I'm a real deal!"
I Am My Own Wife actually comes at the start of a new chapter for Stebbins, who last May stepped down as Rep Stage's producing artistic director after nearly eight years. Stebbins is now working fulltime as a freelance stage actor and director, with projects brewing in New York as well as his hometown of Milwaukee.
But don't worry, he won't be a stranger in these parts for long: Stebbins will return to Rep Stage in the spring for a role in the musical The Fantasticks. – Doug Rule
I Am My Own Wife runs to this Sunday, Nov. 17, at The Horowitz Center's Studio Theatre at Howard Community College, 10901 Little Patuxent Parkway, Columbia, Md. Tickets are $33 to $40. Call 443-518-1500 or visit repstage.org.