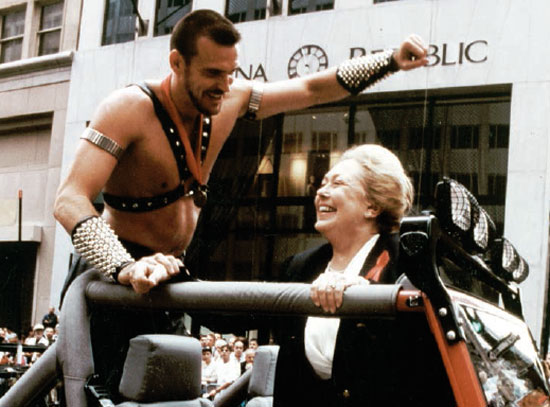 Elizabeth Taylor just couldn't take it anymore. A staggering number of people, including many friends and fellow celebrities, were falling ill and dying at a rapid clip. And yet in those early days of AIDS three decades ago, it was essentially all quiet on the Hollywood front. So as Hollywood's most famous and possibly most beloved actress, Taylor knew what she had to do.
"Bitch, do something yourself!" Taylor recounts with a smile, sharing that internal insight at a rare mid-1980s press conference, footage of which is included in the documentary The Battle of amfAR. Rob Epstein and Jeffrey Friedman's latest documentary, premiering on HBO on Monday, Dec. 2, the day after World AIDS Day, focuses on Taylor's partnership with research scientist Mathilde Krim. Connected by Dr. Krim's husband, Arthur Krim, a Hollywood studio CEO, the two women created amfAR, the country's first AIDS research foundation, in 1985.
At first blush you might feel blasé about a film celebrating two rich and famous women. ("Come on, does the world really need another eulogy to Liz Taylor?") Also, another AIDS documentary? David France's universally heralded, Oscar-nominated documentary How to Survive a Plague was only released last year, and that came only a year after David Weissman and Bill Weber's powerful, similarly focused documentary We Were Here.
But the justification for a documentary about Taylor and Krim and what they achieved in the fight against HIV/AIDS becomes clear mere minutes into The Battle of amfAR. By combining forces, these two well-connected women were able to build on their core strengths — Taylor's pluck and charisma and Krim's rigor and resolve — to became the leading ladies in the fight against HIV and AIDS. In its earliest, darkest days, Krim and Taylor made amfAR a real catalyst, helping increase basic awareness and knowledge of HIV/AIDS as well as spurring more funding for research, efforts that eventually produced better treatment options. Today the disease is a far cry from the death sentence it was early on, and Krim and Taylor, through amfAR, deserve significant credit — more than they've gotten to date — for helping HIV become the chronic, manageable condition it is now for so many.
And yet, The Battle of amfAR doesn't actually trumpet this catalytic success quite as loudly as you might expect or hope. It also doesn't really offer insight into the relationship between amfAR and other prominent AIDS organizations, most notably the more activist, outsider-oriented ACT UP, formed two years after amfAR. Epstein and Friedman simply use video footage from ACT UP rallies to background a discussion with various talking heads about amfAR's ultimately unsuccessful insider push to get the hostile and homophobic Reagan administration to start funding AIDS research. It's an odd, slightly confusing juxtaposition that raises unintended questions.
The Battle of amfAR




HBO
Premieres Monday, Dec. 2, at 9 p.m.
Epstein and Friedman, essentially Hollywood's head historians of the LGBT movement (The Times of Harvey Milk, Common Threads: Stories from the Quilt, The Celluloid Closet), are at their best when the focus is on the personal, even among interview subjects. The filmmakers here selected well-spoken talking heads, and managed to coax out some personal matters that might have initially caused pause — most notably from Aileen Getty, a philanthropist as well as Taylor's former daughter-in-law, who shares, while on the verge of tears, how she became HIV positive.
Ultimately The Battle of amfAR is most noteworthy for shining a brighter light on Krim. As relayed in the film, the Swiss-born Krim was inspired to become a researcher in the first place because she saw it as a useful tool to contradict the kind of propaganda and ignorance that kept even her parents from believing the horror stories about Nazi concentration camps. Many decades later Krim proved her younger self right: Her early and steadfast support for AIDS research has helped change the course of the pandemic and saved countless lives.