Why waste time trying to calculate the roasting time for that 17 pound turkey (if you're curious, according to the folks at Butterball, it is about 3.5 hours if unstuffed and 4.5 hours if stuffed) or hot-gluing sparklies to gourds in an attempt to make the perfect centerpiece, when you can leave all the stress — and the mess — of a delicious Thanksgiving meal to the experts.
Many D.C. area restaurants are open on Thanksgiving Day, letting you leave the stress at home and enjoy a great meal with family and friends. Here are Metro Weeky's picks: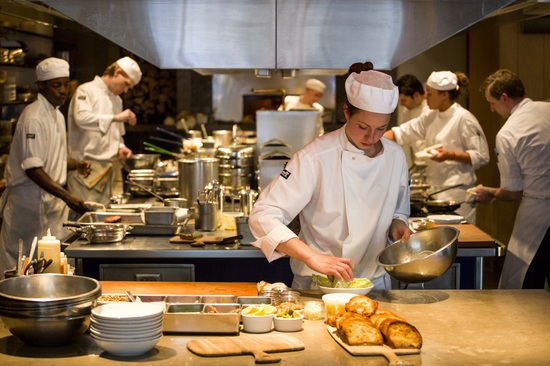 The culinary trio of executive chef Sebastien Archambault, chef de cuisine John Melfi and pastry chef Naomi Gallego of Blue Duck Tavern, located in the Park Hyatt at 24th and M Streets, NW, are having a farm–to-table three-course service from 11:30 a.m. until 9 p.m. Start your meal by picking from appetizers placed throughout the open-air kitchen, followed with a choice of plated entrées and side dishes showcasing produce from regional farms. Menu highlights include Pumpkin Carolina Gold Rice Risotto with pears, quince and smoked gouda cheese; Wood Oven Roasted Maine Scallops with celeriac mousseline, black trumpets, chestnuts, verjus and hazelnut oil; 12-Hour Roasted Suckling Pig with baby vegetables and pork jus; and Muscovy Duck Breast with confit leg and kumquat jam. Chef Gallego's seasonal desserts will top off the meal. The price is $95 per person for adults and $42 for children six years of age and up. Children under six years of age are complimentary. For reservations or additional information please call (202) 419-6755 or visit blueducktavern.com.
Rasika West End, located at 1190 New Hampshire Avenue, NW, is adding a special Thanksgiving dish in addition to its complete a la carte menu. Prepared by executive chef Vikram Sunderam, guests can enjoy the flavorful Turkey Kozhambu, a turkey cooked in coconut milk and curry leaves flavored with star anise and stone flower, served with butternut squash bhaji, Brussels sprouts poriyal and cranberry pulao. The special turkey dish is priced at $16. Rasika West End will be open for lunch from 11:30 a.m. to 2:30 p.m. and for dinner from 5 p.m. to 10 p.m. For reservations or additional information please call (202) 466-2500 or visit rasikarestaurant.com.
Cleveland Park favorite Ardeo+Bardeo, located at 3111 Connecticut Ave., NW, is planning a scrumptious three-course menu crafted by newly-appointed executive chef Matt Kuhn. His menu highlights include Sweet Potato and Apple Soup with toasted hazelnuts, spiced crème fraiche and bacon-apple jam; Braised Pork Cheeks "pot Au feu" with black garlic polenta, mustard greens, rainbow carrots, and cippolinis and pork jus; Roman Style Gnocchi with a la minute Bolognese and young pecorino; Roasted Turkey with grain mustard potato puree, sausage & apple dressing and sage jus, as well as Pan Roasted Day Boat Scallops with Kaboucha squash puree, tatsoi and cranberry-country ham menuire. The dessert menu includes Buttermilk Doughnuts with bourbon-apple butter and maple marscapone, and Pumpkin Arborio Rice Pudding with fall fruit compote and candied walnuts. Service will be from 11 a.m. until 8 p.m. and is priced at $50 per person. For reservations or additional information please call (202) 244-6750 or visit ardeobardeo.com.
The Oval Room, located at 800 Connecticut Avenue, NW, is where executive chef Tony Conte is preparing a three-course holiday menu that features Burrata with persimmons, crunchy Serrano and vincotto, as well as the Crudo of Nantucket Bay Scallops with lemon, apple and lovage. Main courses include Free Range Turkey with chestnut stuffing and cranberry sauce; Maine Lobster with chili-balsamic condiment and a salad of lychee and endive, as well as Prime Beef Strip Steak with salsify and spiced red wine butter. To complete the meal, dessert options include Coconut Cream Tart, or the Pumpkin Cheesecake with graham cracker ice cream. Available from 12 p.m. to 8:30 PM, priced at $55 per person, excluding gratuity and tax. Serving up flavors of the season in an innovative fashion, guests can also opt for the sommelier's suggested wine pairing for $35 per person. For reservations, please call (202) 463-8700 or visit ovalroom.com.
Ashok Bajaj's American brasserie, nopa Kitchen + Bar, located at 800 F Street, NW, is offering a festive three-course menu prepared by executive chef Greg McCarty. You won't want to miss standouts such as House-made Brandade with sourdough and sage; Chestnut and Celery Root Soup with bacon and parmesan; Roasted Turkey with mushroom and herb stuffing, served with glazed root vegetables; Pan Seared Pork Chop with braised red cabbage, glazed chestnuts and apple mostarda, as well as Sautéed Rockfish with white sweet potato confit, butternut squash and yuzu. To end on a sweet note, dessert offerings prepared by Pastry Chef Jemil Gadea include Spiced Pumpkin Pot de Crème with coffee crème fraiche and caramelized pastry crisps; and Pear Almond Strudel with butter almond ice cream. The menu is priced at $45 per person and will be available from 11 a.m. to 8 p.m. For reservations or more information, please call (202) 347-4667 or visit nopadc.com.
701 Restaurant, located at 701 Pennsylvania Ave., NW, will be dishing up a three-course holiday menu available from 11 a.m. to 9 p.m. Executive chef Tony Conte will be preparing a variety of starters such as Crispy Oysters with Asian slaw, miso aioli and chili oil; Chestnut Risotto with mushroom jam and rosemary, and Cauliflower Soup with golden raisins, white cheddar and cumin oil. For the main course guests can order Roasted Turkey with sweet potatoes, stuffing, gravy and cranberry sauce; Butternut Squash Agnolotti with apple puree, pumpkin seeds and sage; Prime Beef Strip Loinwith cherry mustard, confit potatoes and Swiss chad, or Sea Bream with passion fruit mustard, romaine and country ham broth. For the perfect ending, there is Pumpkin Mousse with chocolate, pistachios and Chantilly cream, or the Chocolate Torte with ginger snap and burnt orange coulis. This special meal is priced at $48 per person, and $24 for children 12 and under. Creating the perfect ambience, 701's live jazz duo of piano and bass will be performing during Thanksgiving service. For more information and reservations please call (202) 393-0701 or visit 701restaurant.com.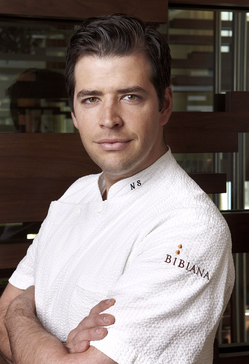 Bibiana Osteria-Enoteca, located at 1100 New York Ave, NW (entrance on 12th and H Streets side), is offering an authentic Italian twist on Thanksgiving. Executive Chef Nicholas Stefanelli's tempting starters include Roasted Chestnut Soup with toasted chestnuts and Grappa cream; 45 Minute Egg with mushroom puree and Maitake mushrooms, and Rice Fritters stuffed with pork ragu and provolone, served with a tomato sauce. Entrées include Heritage Turkey Cooked Two Ways, roasted breast and braised leg with sweet potatoes, bread stuffing and cranberry sauce; Plancha-Seared Diver Scallops with salsify purée and a brown butter vanilla sauce, or the Roasted Pork Loin served with potato mousseline, Brussels sprouts, and mustard sauce. Guests can finish their meal with tempting dessert options that include traditional Pumpkin Flan with ginger caramel, coffee cream and pastry crisps; Persimmon Pudding Cake with coconut sorbet and spiced fresh persimmon, or the Chocolate Pecan Torrone Semifreddo with chocolate sauce. The menu is priced at $48 per person and will be served from 11 a.m. to 8 p.m. For reservations or more information call (202) 216-9550 or visit bibianadc.com.
In the heart of historic Old Town, The Grille at Morrison House, located at 116 S Alfred St, Alexandria, is planning a three-course feast. Chef Brian McPherson is preparing menu options such as a Slow Roasted Local Turkey with brioche stuffing, pomme purée, haricot vert, cepe mushroom casserole, cranberry chutney and pan gravy; and Beef Bourguignon with red wine braised short rib, pomme dauphine and market vegetables. For dessert, The Grille offers a Thanksgiving Dessert Sampler that will include pumpkin bread pudding, pecan pie, heirloom apple pie, crème anglaise and salted caramel ice cream. The menu will be offered from 12 p.m. to 5 p.m. and is priced at $65 per person and $35 for children 12 and under. For reservations and more information, call (703) 838-8000 or visit thegrillealexandria.com.
Jackson 20, located at 480 King St, Alexandria, is offering a Southern-inspired three course Thanksgiving meal ($50 per person, with an optional wine pairing for an additional $25) that includes "eco-friendly" Turkey and Slow Toasted Country Ham with brussels sprouts, tesa, chantrelles, rutabaga and a maple dijon jus, and a House Made Pimento Cheese Ravioli with cream corn and a sweet potato puree. In addition to the three course menu, Jackson 20 will offer a second dining option, a holiday buffet in the Paris Ballroom ($45 per person, $20 children 12 and under). The buffet will include options such as Glazed Sweet Potato Hash, Roasted Turkey, Virginia Spiral Ham, as well as pumpkin, pecan and apple pies. Both dining options will be available from 12 p.m. to 7 p.m. For reservations and more information, call (703) 842-2790 or visit jackson20.com.
In Maryland, Chef Geoff's, located at 12256 Rockville Pike, Rockville, is offering a three-course menu with entrée selections from his regular a la carte menu such as Autumn Squash Risotto with mushrooms, taleggio, pomegranate, and cider gastrique; and Big Shrimp and Very Gouda Grits with andouille sausage, tomatoes, peppers and onions; lastly, Maple Roasted Turkey with chicken sausage-sour cherry stuffing, buttermilk whipped potatoes, traditional gravy, brussels sprouts and bacon, and port wine cranberry sauce. The menu will be offered from 1 p.m. to 7 p.m. and is priced at $39 per person. For reservations and more information, call (240) 621 3090 or visit chefgeoff.com.