Relatively few people ever got the chance to see Edie Beale perform cabaret. "She was getting calls from all over the world, and she just didn't want to do it," Jeffrey Johnson says of Beale reprising her one and only show, which ran for just one week in 1978 at the former New York nightclub Reno Sweeney.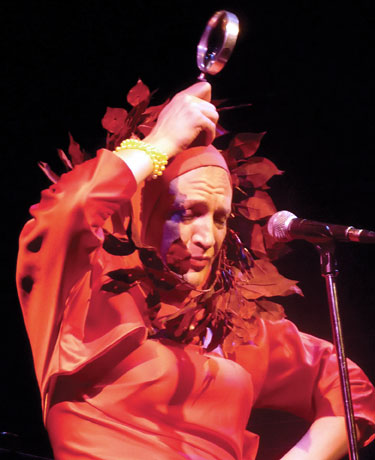 Edie Beale live at Reno Sweeney: Jeffrey Johnson
(Photo by Ron Leiberman)
Yet, surprisingly, close to four decades later, there is still demand for the show. At least, there is demand for Johnson's portrayal of the one-time cabaret performer and mid-20th century socialite, a first cousin to Jackie Kennedy Onassis, whose peculiar domesticity was captured in the documentary Grey Gardens. Johnson first took on the role in 2009 when Ganymede Arts, the former LGBT theater company he ran, presented Edie Beale Live at Reno Sweeney. He developed the comedic cabaret show with his longtime friend Gerald Duval, who had co-written the original cabaret with Beale and first proposed the revival to Johnson. "I've seen you do a couple of these roles where you've experimented with gender," Duval told Johnson, referring to his popular, hot-pink-haired Special Agent Galactica, "and I think you could really do Edie Beale."
Johnson has been playing Beale off and on in the years since, and this weekend Johnson debuts a run at L'Enfant Cafe, which he praises for its intimacy and ambience. He anticipates developing more shows at L'Enfant after the holidays, perhaps even one in which he performs as himself out of drag. But the Beale cabaret will surely be revived again. Says Johnson: "There's a cult following out there for Edie Beale and Grey Gardens." — Doug Rule
Edie Beale Live at Reno Sweeney runs for six shows starting Sunday, Nov. 17, at 7 p.m., with "A Night of 1,000 Edies" costume party performance Saturday, Nov. 24, at 7 p.m., at L'Enfant Cafe, 2000 18th St. NW. Tickets are $15. Call 202-319-1800 or visit lenfantcafe.com.