Next year, Nigel Williams turns 40. He insists the four-decade mark is causing him none of the midlife angst it does for so many. "I think I have that more European mindset," says Williams, who grew up in an English seaside resort. "Age is just a number to me."
In fact, Williams was 38 when he achieved a milestone of far more lasting significance: winning the title of Mr. DC Eagle 2013.
"This whole year, quite frankly, has been a milestone," says Williams, who had never even entered a leather contest before. "This was one of those wonderful, bizarre, crazy, surprising things that happened. It gave me a family and support and adventures."
Holding a title touted as the oldest leather title in the country also gave Williams greater insight into both the large leather world — he placed in the finals at Chicago's preeminent International Mr. Leather contest in May — and the local community. "We have such a strong and passionate leather community here in the city," he says. "It gave me an amazing opportunity…to increase my knowledge and increase the bonds."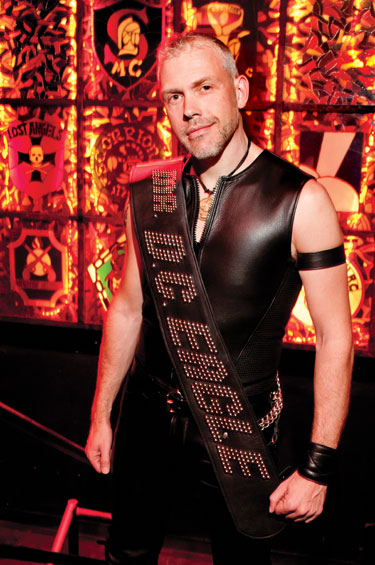 Nigel Williams, Mr. DC Eagle
(Photo by Todd Franson)
As one specific example, Williams, an avid runner, has worked to increase the bonds among his predecessors, creating a team of Mr. DC Eagle titleholders to run in charity races such as October's Army Ten-Miler. The main focus of his year as Mr. DC Eagle has been to raise money and awareness for Whitman-Walker Health and its work on HIV/AIDS. He organized another leather team to participate in AIDS Walk Washington. He also recruited Whitman-Walker Health representatives to give free onsite HIV testing several nights at the DC Eagle. "I think everyone has a responsibility to know their status," he says, "and make informed decisions based on that."
Next Saturday, Nov. 23, Williams will give up his sash and help choose his successor. "There's a lot of history and a lot of tradition and a lot of eyes always on Mr. DC Eagle," Williams says. Applications are still available for those wanting to compete in the contest, which is the main event in a weekend-long celebration of the bar's 42 years in business.
The DC Eagle became Williams's "home bar" when he moved to D.C. for a job in human resources, settling into an apartment just three blocks away from the venue's third and current location on New York Avenue.
But the DC Eagle wasn't the bar that initially sparked Williams's passion for leather in 1998. A year after Williams first settled in the states, in Orlando — working for Walt Disney World, naturally — he traveled south and made a chance visit to the Ramrod Fort Lauderdale. "It was just very liberating to see people living their life completely out loud," he says. "It was just a very different level of freedom than I've seen in other gay pubs. It was really refreshing."
The Mr. DC Eagle 2014 Contest is Saturday, Nov. 23, starting at 11:30 p.m., at the DC Eagle, 639 New York Ave. NW. Call 202-347-6025 or visit dceagle.com.