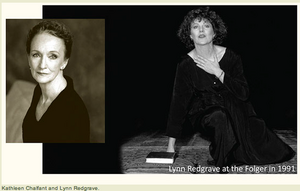 Twenty-two years ago the Folger Shakespeare Library invited the late, great actress Lynn Redgrave to share anecdotes from her Shakespeare-steeped family, led by her father, the knighted Britsh acting legend Michael Redgrave. Redgrave then worked to turn that one-night only presentation at the Folger Theatre into her 1994 Tony-nominated one-woman show Shakespeare for my Father.
Tonight, the noted Broadway actress Kathleen Chalfant — a friend of Redgrave, who died of breast cancer in 2010 — pays tribute to Folger's inspiration for the play by stepping into Redgrave's shoes to present a staged reading of it. Presented in association with the Davis Performing Arts Center at Georgetown University, the staged reading comes as part of Folger's new exhibition Here is a Play Fitted, which includes materials related to Redgrave's remarkable career as actor and playwright.
Monday, Nov. 11, at 7:30 p.m. Folger Theatre, 201 East Capitol St. SE. Tickets are $25. Call 202-544-7077 or visit folger.edu.