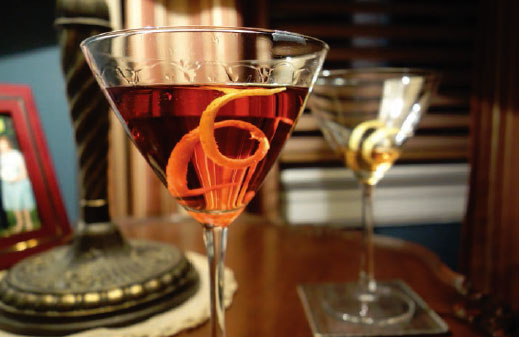 Over the last few months, I've been getting the same question from a few people. "Can you help get me back in shape? I want to be back to the weight I was 10 years ago. I'll do anything you need me to do."
Typically, a pause follows. Then comes the list of bad habits they want to keep while still being fit.
"Except for quit drinking."
I looked Tom dead in the face and asked, "Is that that it?"
Of course you can drop the weight and keep drinking. There's a misconception that being fit and healthy is an all-or-nothing kind of thing. It's not. You can have your cake and eat it, too — just as long as you don't eat it every night.
True, the big one is the same one my friend Tom was worried about: drinking. Putting alcohol away completely isn't a requirement at all. Strangely enough, wine is used regularly in modeling to help dry out models. As with all alcohol, wine dehydrates you, so it helps models appear even leaner than they actually are.
But moderation is paramount when booze is involved. Alcohol has some very interesting effects on the body. A study done in 2002 by Japanese researchers at Kyushu University found moderate alcohol consumption actually reduced insulin resistance. Again, moderation is key.
We all know insulin resistance is bad for your body. It prevents muscle building, lowers energy levels, and can lead to diabetes. On the flipside of the discussion, alcohol also takes precedence over every other compound in the body when it comes to metabolism. It not only stops you from burning fat, it keeps you from breaking down protein and carbs. And that's really bad.
With this information in hand, it's hard to make a call on whether it's good or bad for you. Like many things in life, it can be both. So, you've hit the gym for the last week, adhered to your diet and macros, and Friday is here. Three "rest days" await you this weekend. Go have that drink, or three, but keep it under control. You won't ruin your progress with a single night per week of fun — and it's far better for your psyche and relationships in the long run, anyway.
Eating out at restaurants is another touchy topic among trainees. "How will I ever get lean and muscular if I'm not eating chicken, rice and broccoli for every meal?" It's simple: account for it. For lunch today, I ate a buffalo-chicken sandwich from my second-favorite spot down the street. After I finished the sandwich I put the calories, fat, carbs and protein in my nutrition tracker. Always plan to have smaller meals bookend restaurant outings, as they're notorious for having huge portions. Or, when ordering, ask for the burger minus cheese and bun. Or substitute fries for steamed vegetables. Almost any restaurant will accommodate such simple requests.
Finally, the best way to maintain a life and body simultaneously is to make your fitness your social outlet. It's no coincidence when you see the biggest guys in the gym they're either picking up something really heavy, or talking to someone who just did.
Guys who spend so much time in the gym have earned a nickname — "gym rats." They've surrounded themselves with others who value the same sort of healthy lifestyle they do. Putting yourself in a position to succeed — important in every aspect of life — includes getting healthier and fit. Join a sports team that values performance. Start taking classes like yoga, or dance — something that makes you move, but allows you a chance to socialize as well. Several friends and co-workers take part in Boot camps and fun-runs. It's about the health benefits, sure, but the first thing they always mention is who they hung out with, not the exercises they did.
All things considered, you have to weigh your desire for fun, and your patience with results. Drinking on the weekends and eating out frequently will likely slow your progress. But it's often worth it for the stress relief. "All work, and no play…" and all that jazz.
Read more of Brandon's health columns and postings at metroweekly.com/health