I know the drill. I've gone through it. You wonder how many people are going to be there. You wonder how big the people are who go there. You wonder how fit and trim the person on the treadmill or bike next to you is going to be – and how they might size you up.
It intensifies the entire trip to the gym. Sweaty palms, stomach-turning and thousand-mile-stares are the symptoms I experience.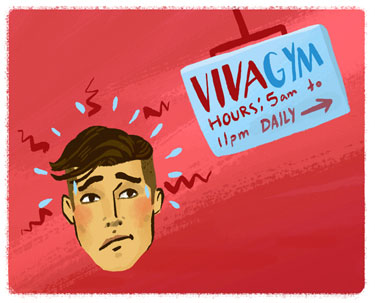 These feelings, for me, last through the first few visits. I walk in and, like any pretend meat-head, puff my chest up right before the doors open. I don't want to appear out of place, after all. My voice may get a bit deeper, though it's already plenty deep by way of genetics. Doesn't mean I don't try to over-compensate.
You can always pick me out the first few weeks at the gym. I'll wear a hoodie, headphones in my ears and a slight scowl on my face. The "Don't talk to me, I'm in the zone" look, I call it. I don't walk too close to the cardio machines. (Those people are in the zone – don't want to disturb that.) And I avoid taking full-on stares in the mirror, regardless of how badly I want to look. If someone is on a machine I need, I'll take a break instead of asking to work-in. I do all of this in an effort to avoid possible social interaction when I feel the most vulnerable – after years of attending public gyms.
What I find curious about the whole situation, regardless of how many times I go through it, is that I still feel the same at every new gym. Just last night I decided to go to a gym closer to my 9-to-5 instead of my regular spot near my home. And I went through the same routine. As I made my way to the free-weights area of the gym, it dawned on me: I've never had a single issue at a gym. No disagreements, awkward meetings or judgmental stares. For what it's worth, I've barely had conversations with anyone in the gym. So why do I let this stuff worry me so much every time?
As the days of frequenting a particular gym continue, I notice the same people, day-in and day-out. It starts to become a far more comfortable environment, and there is a notable change in my demeanor. The hoodie is gone and the scowl is replaced by my grins when I complete or fail at something challenging. The gym becomes more of a sanctuary than a nightmare. Instead of noticing all of the people that are bigger, stronger and faster, I begin to notice those who are simply trying their hardest. These people are rarely the ones in the best shape. They are typically the newbies. They're busting their behinds on the stationary bike or benching 115 pounds, but you can tell they're trying, and that's the important part.
Moral of the story, plain and simple, is don't let the insecurities of being in a gym stop you from going. Everyone starts somewhere. I've seen all shapes and sizes walk in, and have been impressed by the courage and drive of them all. Maybe it's because I feel the same way when I walk into a new gym, but I know what it takes to open those doors for the first, second and hundredth time. The best part? The sooner you start, the sooner you become a regular.