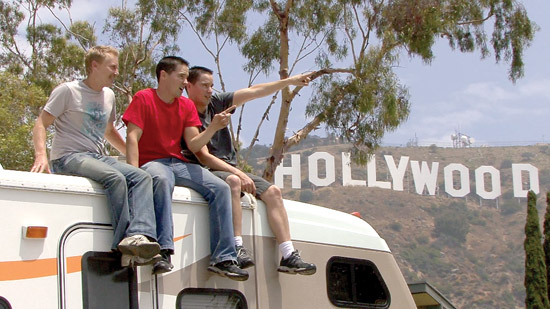 The LGBT television network Here TV announced a licensing deal with Breaking Glass Pictures to air 30 of the company's films, including Hollywood to Dollywood, Out in the Open, Nate & Margaret, and two of Del Shores's stand-up comedies, Del Shores: My Sordid Life and Del Shores: Sordid Confessions.
"Here TV is committed to providing more of the best films, documentaries, and scripted series in LGBT premium television. Our partnership with Breaking Glass Pictures provides Here TV access to a best-in-class, diverse LGBT library," said the network's senior vice president of programming operations John Mongiardo. (That doesn't explain the Del Shores acquisitions, but you can't have everything.)
Hollywood to Dollywood (pictured), airing now, played in the 2011 Reel Affirmations film festival. It's "the story of gay twins Gary and Larry Lane attempting to deliver their screenplay to Dolly Parton and — through some metaphysical process — earn the acceptance of their family," wrote Sean Bugg in his review. "Because nothing actually happens on this trip, it basically turns into the twins and one of their boyfriends sitting around shooting the shit about their families, politics and favorite Dolly songs — the same tipsy conversations you have with your friends after a late evening of drinks, and just as lackluster. But don't feel bad for these guys. They're not down-on-their-luck country boys seeking out a dream — they're fairly well-connected Los Angeles residents (from North Carolina) who have the onscreen backing of Dustin Lance Black, Chad Allen, Leslie Jordan and others."
Matthew Smith's uplifting and reaffirming documentary, Out in the Open, starts airing Nov. 15, while Nate & Margaret, which tells the story of a 19 year old gay man and a 52-year-old stand-up comedian, begins its run Nov. 29.
Here TV can be found on most major U.S. cable systems as a 24-hour subscription service and on VOD and SVOD services. Click here to find out how to get Here TV. The network is also available as a paid YouTube channel.