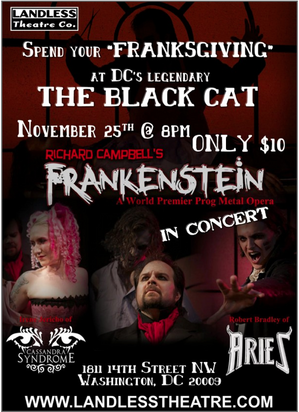 After a run over the summer at GALA Theatre, D.C.'s quirky Landless Theatre Company reprises for one night a concert version of Mary Shelley's classic novel as adapted by young British prog-metal composer Richard Campbell. Prog-metal, you say? "Prog-metal is actually a very complex, a very precise, almost classically based metal," Melssa Baughman, the show's director, told Metro Weekly for a June feature on the show. "It's really intricate [with] emotional highs and lows. It's not just, 'Let me rock your face off.' It's definitely not heavy all the time."
For the show Landless put together a five-piece rock band to support a cast of four main performers, including two who front Maryland-based metal bands: Irene Jericho of Cassandra Syndrome and Robert Bradley of Aries. Greg Bowen, as the creature, and Andrew Baughman as his creator round out the cast. The one-night-only reprise will be staged, appropriately enough, at the rock club Black Cat.
Tonight, Nov. 25. Doors at 8 p.m. Black Cat Backstage, 1811 14th St. NW. Tickets are $10. Call 202-667-4490 or visit landlesstheatre.org.