Already this fall there have been several local performances of Verdi's Requiem. The beloved masterwork, as Scott Tucker puts it, "is often presented kind of as a museum piece."
But not so with Tucker's Choral Arts Society of Washington. "We're trying to present it in a way that is relevant to our context right now," Tucker says about the piece, which factors into a season-opening program, Legacy and Life, commemorating the 50th anniversary of John F. Kennedy's assassination. Verdi wrote the piece 140 years ago to honor the legacy of Italian poet and novelist Alessandro Manzoni. "He wrote it because one of his national heroes died," Tucker says. "[We're] taking Verdi's intent to nationally honor one of our own, and put that in an American context."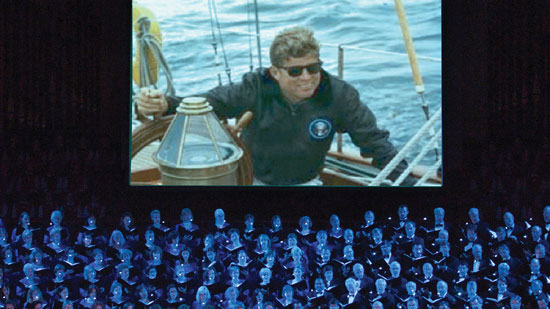 Choral Arts Society with JFK
Choral Arts has tasked visual producer Bonnie Nelson Schwartz to create a montage of images and videos of Kennedy to be played while soloists, the chorus and the orchestra perform Verdi's Requiem. That will be preceded by Take Him, Earth, a new piece by Pulitzer Prize-winning composer Steven Stucky, which was written to honor Kennedy and features texts associated with the 35th president. "It's not as huge and grand as the Verdi Requiem is. It's a little more intimate," Tucker says about Stucky's short piece.
"I have felt very free to take the organization in the direction that I feel is most appropriate artistically," says Tucker, who is only in his second season as Choral Arts's artistic director, filling the big shoes left by the organization's founder Norman Scribner. Tucker assumed the position after teaching choral music for 17 years at Cornell University.
Tucker considers Legacy and Life an example of how he intends to lead the organization. "This concert itself is a way of saying I honor the great masterworks, but I also believe that any arts organization is responsible to keep looking at things in a fresh way," he says. "I'm not at all afraid to present masterworks just as they are, on their own, but I also believe that it's worthwhile to constantly ask the question: Why are we doing this? And what's its value? What are we trying to say?" '
The Choral Arts Society of Washington performs Sunday, Nov. 10, at 4 p.m., at the Kennedy Center Concert Hall. Tickets are $15 to $75. Call 202-467-4600 or visit kennedy-center.org.