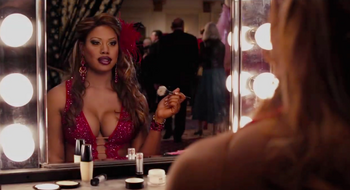 While we're waiting for Season 2 of the groundbreaking Orange Is the New Black, based on Piper Kerman's prison memoir of the same name, to start streaming on Netflix, HBO Latino is going to help us pass the time.
Any true fan Orange is surely a fan of Sophia Burset, the show's transgender inmate, and of the actress who brings the character to life, Laverne Cox, who is also transgender. But Cox didn't get her start with Orange. She's been around a bit. One of her highest-profile gigs prior to Orange was as Chantelle, a transgender woman competing in wheelchair ballroom dancing in director Susan Seidelman's (Desperately Seeking Susan, She-Devil) Musical Chairs.
HBO Latino gives Musical Chairs its network-television debut Friday, Nov. 15, at 8 p.m. Eastern and Pacific. The film will screen in English, with Spanish subtitles, through Dec. 18. It will also be available via HBO On Demand and HBO Go following the initial airing.
As for Orange Is the New Black, the release date for Season 2 has yet to be announced.
[Photo: Laverne Cox as Chantelle in Active Fox Production's Musical Chairs.]