It's hard being the family gay. When you're the first in your family to come out — meaning the active choice to live your life openly to your family, rather than pretend to be a confirmed bachelor or spinster — you have to chart new territory for both yourself and your relatives. For us 40-something Gen Xers, we did that amid a culture that was far more averse to us and with few safety nets to catch us.
And you learn that sometimes love isn't enough.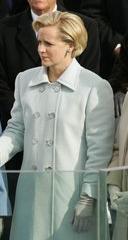 Mary Cheney
(Photo via Wikipedia/ Susan Sterner)
No matter how accepted we are by our families, many of us have a relative — mother or father, aunt or uncle, sibling or cousin — who's not fully on board, particularly on things like marriage equality. Sometimes it's just an unspoken tension that everyone politely ignores, sometimes it's an open wound that drives a family apart. Either way, it hurts.
I wanted to make that clear before getting to why I don't feel sorry for Mary Cheney. In fact, I'm skating right up to the edge of schadenfreude.
Now that Mary's big sister, Liz Cheney, has doubled down on opposing marriage equality, Mary and her wife have taken to Facebook and the press to criticize Liz's hypocrisy. The sudden and very public Cheney civil war is rightly taken as an example of how radically the politics of gay rights have changed in the past decade.
For years, the one thing you could cite as an example of Vice President Dick Cheney's humanity behind his puppet-master, torture-approving, warmongering exterior was his support of marriage equality, support that grew out of obvious love for his lesbian daughter and daughter-in-law.
At least until his other daughter decided it's her birthright to be a United States senator, pretended to be from Wyoming, and promptly took the position that her little sister's marriage isn't real. Now that it's about getting a Cheney back into Congress, parents Dick and Lynne have taken Liz's side, lauding her kindnesses to her little lesbian sister even if she is campaigning on a platform that would keep her sister as a lesser person in the eyes of the law.
Power first. Family second. Nothing else at third.
I'm glad that Mary Cheney and her wife, Heather Poe, lashed out publicly. It must hurt to have your sister turn her back on you as part of a carpetbagging campaign quest that can best be described as quixotic. But in 2004, when gay marriage was the electoral wedge Karl Rove and his then-closeted henchman Ken Mehlman pounded into the nation, Mary Cheney kept her mouth firmly shut. Even as that wedge created dozens of constitutional amendments banning any recognition of her own relationship, she said nothing that might interfere with the re-election of her father.
Power first. Family second. Everyone else, in the words of her father, can go fuck themselves.
Ken Mehlman publicly recanted his 2004 anti-gay role and worked to undo the damage he did. Mary Cheney wrote a book about how angry she was to have her personal life targeted during the campaign and then got married in D.C. when those hated Democrats made it possible. She has not been a profile in courage. All of which makes it hard to shed a tear now that she finds herself on the wrong side of her family's knife-fight political style.
Power first. Perhaps Mary Cheney truly understands now that nothing else comes close.
Sean Bugg is the editor emeritus of Metro Weekly. He can be reached at seanbugg@gmail.com. Follow him on Twitter at @seanbugg.