They've been called the "Me Generation" by Time magazine. They're steeped in social media and technology. They're possibly the most educated generation, according to Pew Research. They've been called racially and ethnically diverse, severely underemployed and so deep in student loan debt that Forbes magazine says they'll have to work into their 70s before they can even consider retiring. But "millennials" – those born in the 1980s and 1990s, according to Merriam-Webster – particularly those in the LGBT community, aren't interested in fighting intergenerational wars or re-litigating past fights for equality. Rather, they're trying to focus on "bigger picture" issues that emphasize social justice.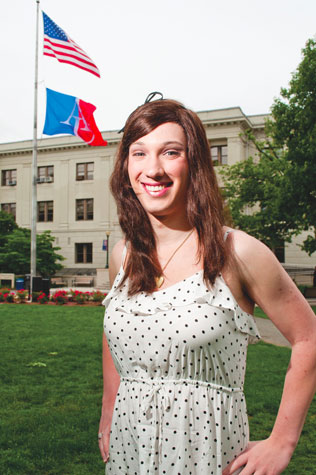 Sarah McBride
File photo/Todd Franson
"Our generation is coming at LGBT rights from an interesting perspective," says Sarah McBride, a 22-year-old special assistant for LGBT progress at the liberal-leaning think tank Center for American Progress. "We're demographically different, but we also have different issues. We're more likely to see an understanding of the intersectionality of equality, looking at the issues affecting people of color, immigrants, low-income families. We realize that until all equality is addressed, we will be leaving too many of our LGBT neighbors and friends behind."
McBride, a transgender woman who serves on the board of Equality Delaware and a former intern for the Gay & Lesbian Victory Fund, says many millennials see the causes of employment discrimination and marriage equality as "foregone conclusions" that will eventually come to pass. Instead, they've focused their efforts on other issues, adopting a broader push for human rights writ large.
Dan Furmansky, a Silver Spring-based LGBT and social-justice activist with a résumé long enough to age him beyond the millennial cohort, agrees that the progress in recent years, particularly with regard to marriage equality, has led some leading LGBT organizations to treat marriage as "the end-all and the be-all." But Furmansky says the younger generation of LGBT activists is more focused on day-to-day concerns, such as the prevalence of hate crimes, the accessibility of high-quality health care and jobs for transgender people, discrimination in employment and housing, and what is being taught in public schools – not just focusing on the existence of the LGBT community or bullying, but the availability of comprehensive sexual education.
"A lot of people who are sympathetic to us and are with us on the issue of marriage don't always understand the broader issues affecting the community," he says. "They need more education to make them aware of those."
Both McBride and Furmansky will sit on a panel of activists at a Nov. 13 event at the University of Maryland, College Park, hosted by UMD's School of Public Policy, titled "After Marriage: Defining LGBT Equality for the Millennial Generation," where they hope to delve more deeply into some of these issues. Jermaine Lewis, an artist and community activist, and Michele Prince, a doctoral student in UMD's Department of Women's Studies, are also scheduled to sit on the panel, moderated by UMD's Mindy Wu.
Furmansky acknowledges the feelings of some in the LGBT movement that the amount of money funneled into marriage-equality fights could have been used to address other needs, such as being used to lobby more effectively on behalf of an Employment Non-Discrimination Act, or the troubling increase in new HIV infections among younger gay and bisexual men who are too far removed from the AIDS crisis of the 1980s and '90s.
"But let's not make marriage equality a scapegoat for why we haven't gotten further," he says. "Marriage equality has helped advance more understanding and acceptance of the LGBT community. The larger issue we should address is: How best can we leverage the resources we can get our hands on?"
Both McBride and Furmansky see distinctly greater acceptance of people of varying sexual orientations or gender identities within the LGBT community among the millennial generation, though both acknowledge that some sub-groups, such as transgender people, may still feel invisible within the larger movement.
"I think you see, across economic and racial backgrounds, a push for inclusion of bi, transgender or intersex people," McBride says. "It's definitely better than it has been in the past, even though we still have work to do for those groups."
McBride also says the LGBT movement needs to start bridging economic and educational divides within the community, reaching out to youth who don't pursue higher education, those of lower socioeconomic standing and, particularly, homeless youth.
Furmansky sees a similar need, though he says LGBT national organizations have begun making inroads into more marginalized groups by speaking out on issues such as mass incarceration of people of color, voting rights, racial discrimination, and even so-called "stand your ground" gun laws.
"We should be concerned about social justice for all people," he says.
McBride says the biggest challenge LGBT millennials will face is taking their rhetoric and translating it into direct action on the varied issues affecting members of the community. She adds that millennials need to learn how to support and exert pressure on elected officials who will work to resolve those problems or stand up for the community by holding politicians or those in positions of power accountable.
"I'm optimistic," says McBride, "but we have yet to prove whether our actions, our beliefs, will turn into tangible results."
The panel discussion, "After Marriage: Defining LGBT Equality for the Millennial Generation," will be held Nov. 13 at 5 p.m. in the Public Policy Atrium of Van Munching Hall, University of Maryland, College Park. For more information, contact James Stillwell at jstill@umd.edu.