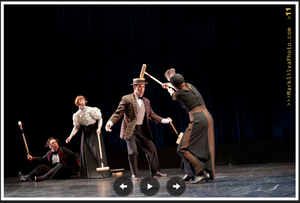 Halloween and the Day of the Dead may be over for another year, but gory tales never really go out of fashion in a season when it's dark and chilly all night long. Or at least not Gorey tales, as in Edward Gorey, the late American illustrator known for his unsettling surrealist style of drawings that have charmed countless Goth-heads.
"It turns out there are a lot of closet Edward Gorey fans out there," confirms Sabrina Mandell. Four years ago Mandell, founder and co-artistic director of the Maryland-based devised theater company Happenstance, started a theatrical show featuring dark comic vignettes inspired by Gorey and similar Victorian nightmarish tales. "It became a crazy, cult event," she says of Cabaret Macabre. "People started appearing from out of nowhere."
Every year's show features different thematic elements, Mandell recently explained in a Metro Weekly profile, but all include a closing "dance macabre," a wild scenario involving real-life mannequins and a "dangerous croquet battle." The company will present this year's edition at the New Orleans Fringe festival later this month — but not before finishing its third and final weekend at Round House Silver Spring.
Remaining performances of Cabaret Macabre are Thursday, Nov. 7, through Saturday, Nov. 9, at 8 p.m., and also Saturday, Nov. 9, and Sunday, Nov. 10, at 2 p.m., at Round House Theatre, 8641 Colesville Road, Silver Spring. Tickets are $20. Call 240-644-1100 or visit roundhousetheatre.org.